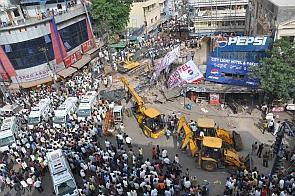 With the recovery of two more bodies, the death toll in the collapse of a hotel building at Secunderabad has gone up to 15 while 12 others are undergoing treatment in various hospitals.
Two more bodies have been retrieved since Monday night from the debris of the collapsed City Light Hotel and Bakery on Rashtrapati Road, Greater Hyderabad Municipal Corporation Commissioner M T Krishna Babu told PTI.
One person is said to be trapped under the debris and efforts were on to extricate him, he said. The roof of the nearly 80-year-old Hotel City Light and Bakery gave way at around 6.30 AM on Monday, resulting in the building collapse, officials said.
"The injured were shifted to state-run GandhiHospital, where five among them were discharged while doctors performed surgeries on four others," officials had said.
Image courtesy: SnapsIndia