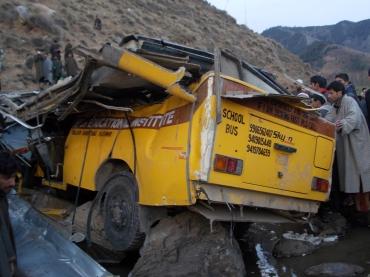 Eight school children were killed and nine others wounded in a road mishap in south Kashmir's Anantnag district on Thursday afternoon.
A senior police officer said the bus, which was carrying the students back home from school, fell into a deep gorge in the mountainous Shangus area of Anantnag district.
The bus, which had dropped off some students enroute, has been extensively damaged in the mishap.
Senior police officers rushed to the spot along with rescue teams.
While the bodies of four children were recovered from the accident site, four others succumbed to their injuries in the hospital, said a police officer.
The injured were shifted to the Anantnag sub-district hospital for treatment, where attending doctors referred six of them to Srinagar for specialised treatment.
Photograph: Umar Ganie