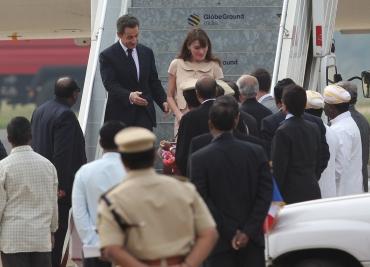 French President Nicolas Sarkozy, who kicked off his 4-day India visit in Bengaluru on Saturday, made a strong case for India's inclusion as a permanent member of the United Nations Security Council.
It was unthinkable that India was not yet a permanent member of the UNSC, said Sarkozy, who is visiting India with his wife Carla Bruni.
Sarkozy was addressing scientists and other dignitaries at the Indian Space Research Organisation in Bengaluru.
He said that France would back India's bid, but added that countries such as  Brazil, Germany, Japan, Africa and the Arab world should also be a part of the UNSC.
"France is a friend of India. It will stand with it in its efforts in developing non-polluting energy and nuclear industry," the French President said.
Batting strongly for India's nuclear programme, he assured that France would provide all possible help to India to develop the nuclear programme. He also said that he wanted to strengthen bilateral ties in key areas of space and civil nuclear cooperation.
"We need to put an end to the nuclear isolation of India. Injustice was done to India, challenging your right to access civil nuclear energy," Sarkozy, who is on his second visit to India, said.
India is now going to be a full-fledged member of the multilateral groups overseeing non-proliferation regimes, he said, adding France would support India's application for candidacy of the Nuclear Supplier's Group.
Sarkozy noted with 'delight' that a French company Areva would be setting up a nuclear plant at Jaitapur in Maharashtra that would go on to produce 10,000 MW of 'non-polluting' energy.
However, he noted that there was certain a 'inconsistency' in India's approach as while it wanted the development of clean energy on one hand, it was at the same time 'restricting access'.
"We cannot force upon India obligations without giving it the means to meet the obligations," he said.
On the issue of terrorism, Sarkozy expressed concern over the extremism breeding in India's neighbours Pakistan and Afghanistan.
"We should stand united in this fight against terrorism," Sarkozy said, adding that the terrorism that emanates from Pakistan and Afghanistan is a cause for major instability.
All possible steps should be taken to prevent the return of the Taliban regime in Afghanistan, he said.
Later, Sarkozy went on a brief tour of the ISRO, where he reviewed the Indo-French space collaborative projects -- the Megha Tropiques and SARAL.
The two satellites, which are being jointly developed by ISRO and the French National Space Agency, are expected to be launched next year. The MT satellite will study the water cycle in the tropical atmosphere while SARAL will monitor sea levels.
Image: French President Nicholas Sarkozy with wife Carla Bruni at the Bengaluru airport
With inputs from PTI