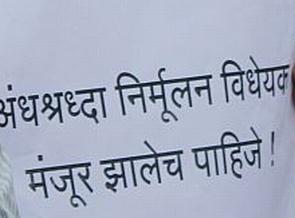 A worker of right-wing organisation Sanatan Sanstha was picked up from Goa by Pune police, as part of their probe into the murder of anti-superstition activist Narendra Dabholkar.
Sandip Shinde, 31, a Sanatan Saadhak was taken into custody on Wednesday night by a team of Pune police which descended at the ashram in Ramnathi village in Ponda, 30 km away from Panaji.
Goa police had also accompanied their Pune counterparts during a search at the ashram premises which continued for almost an hour.
"Shinde was brought to Ponda police station for recording his statement," Ponda Police Inspector C L Patil told PTI.
Later, he was taken to Pune.
The 69-year-old social activist was shot dead by two motorcycle-borne assailants on August 20 in Pune while he was out for a morning walk.
Earlier, the Sanstha had sought to distance itself from the rationalist's killing, in the backdrop of reports that the outfit could have a role in the murder.
Denying the allegations, it had said that they had differences with his ideology, not with him as an individual, while conceding that Dabholkar did "commendable" work.
Maharashtra Chief Minister Prithviraj Chavan had recently hinted at the possibility of the involvement of right-wing organisations behind the killing of Dabholkar by equating his assassination with that of Mahatma Gandhi.
Image: A poster at a rally to protest Narendra Dabholkar's death