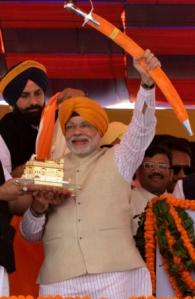 Union minister Salman Khurshid on Tuesday described Gujarat Chief Minister Narendra Modi as "impotent", a remark that invited a sharp condemnation from the Bharatiya Janata Party.
The external affairs minister's fresh salvo against the BJP's prime ministerial candidate at a rally in Farrukhabad came as he raised questions on the Gujarat chief minister's handling of the post-Godhra riots in 2002.
Earlier, Khurshid had compared Modi to the proverbial frog just out of the well.
Without naming Modi directly, Khurshid, who is a sitting Member of Parliament from Farrukhabad, asked why a man who aspires to be the prime minister of the country could not do anything during the 2002 riots.
"Some people came, attacked and went, and you couldn't protect. Are you not a strong man,," the senior Congress leader asked.
"We don't accuse you (Modi) of killing people... Hamara aarop hai ki tum napunsak ho. (Our accusation is that you are impotent). You couldn't stop the killers," he added.
Modi's close aide and Gujarat minister Jay Narayan Vyas said Khurshid's "absolutely indecent comment" reflected the "frustration" of the Congress leaders ahead of the Lok Sabha polls.
"They are so frustrated that they have lost control over their mind and tongue," said Vyas, who is spokesman for the Gujarat government.
He also pointed out Congress leader Mani Shankar Aiyar's tea seller jibe directed at Modi.
BJP leader Sudhanshu Mittal said he was saddened at the kind of language coming from somebody who claims to be educated and observed that it was "debasement of politics" of the worst kind.