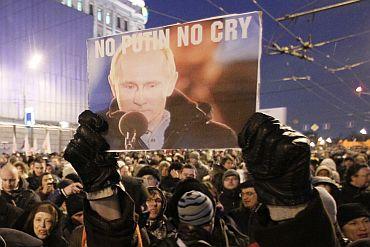 Hundreds of opponents of Russian president-elect Vladimir Putin on Monday gathered at Pushkin Square in downtown Moscow to attend a rally, denouncing his victory at the presidential polls as illegitimate.
"Police have cordoned off the place. On the whole, the situation is calm and no law offences have been reported so far," Russian news agency Itar-Tass reported.
"Police said that the turnout at the anti-Putin rally, titled "For Fair Elections" stood at 14,000," another news agency RIA Novosti reported.
Organisers, however, said at least 20,000 showed up.
The venue was completely crowded some time before the speakers took the floor, RIA Novosti reported. It said crowd broke into chants "Russia Without Putin" from time to time.
The 59-year-old ex-KGB spy triumphed in the presidential election held on Sunday, securing almost 64 per cent of the total votes cast, the Central Election Commission said.
Speakers at the rally included liberal politician Boris Nemtsov, Sergei Mitrokhin and Gennady Yavlinsky, Udaltsov and nationalist activists Vladimir Tor and Konstantin Krylov.
"You have stolen from us!" whistleblowing activist Alexei Navalny shouted into microphone, referring to the authorities.
Presidential candidate Mikhail Prokhorov, a tycoon who targeted the middle class and was the second runner-up with 7.9 per cent of the vote, also took the stage to renew his pledge to establish a political party. His appearance elicited a mixed reaction of boos and cheers, RIA Novosti reported.
Dozens of trucks with riot police rolled into downtown Moscow, and a helicopter barraged the sky over the venue at the rally's start. City police officials threatened to crack down on anyone violating rules for public rallies.
Opposition leader Boris Nemtsov said the event on the square will be followed by a flashmob in which silent protesters encircle the Kremlin in a human chain.
Police said the event is illegal and would be dispersed, Ekho Moskvy liberal radio reported.
About 100 activists of the radical opposition group The Other Russia were detained during an unsanctioned protest near the office of the Central Elections Commission on Monday. Police said about 50 were held.
Novelist-turned-politician Eduard Limonov, who heads The Other Russia, was among those detained, the group's spokesman said.
Another opposition rally may take place outside the Central Election Commission's headquarters. It has not been allowed by the city administration.
Meanwhile, the Communist Party is also holding a rally that has brought together some 300 people, including 50 members of mass media.
Image: A participant holds a placard above the crowd during a protest demanding fair elections in central Moscow on Monday
Photograph: Reuters