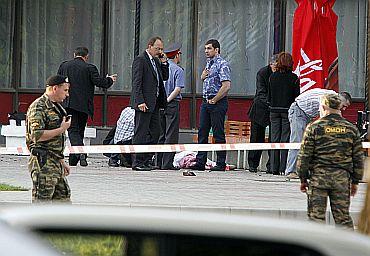 An explosion near a concert hall killed four people and injured 20 others in the southern Russian city of Stavropol on Wednesday, with authorities saying they were probing the possibility of a terror angle into the blast.
The explosive device went off just 15 meters from a concert hall in the city centre at the Palace of Trade Union Culture and Sport, officials told Itar-Tass.
Four people -- all women -- were killed while at least 20 others were wounded, the agency said quoting a police official. Following the blast, police cordoned off the area and were probing the causes, not ruling out a terror angle.
All the dead are women, city administration civil defense chief Boris Skripka was quoted as saying by Ria Novosti.
"A terrorist attack is being considered as one of the versions of what occurred," Skripka said. While much details were not yet available, Ria Novosti quoted a source as saying that it was a car that exploded.
Stavropol lies on the north of the volatile Caucasus region, where frequent attacks are carried out by Chechen separatists against the security forces.
At least 40 people were killed in March this year when two women suicide bombers blew themselves up at two different locations inside the Moscow metro during the morning rush hour.
Image: Investigators work at the site of a bomb explosion in Russia's southern city of Stavropol on Wednesday
Photograph: Eduard Korniyenko / Reuters