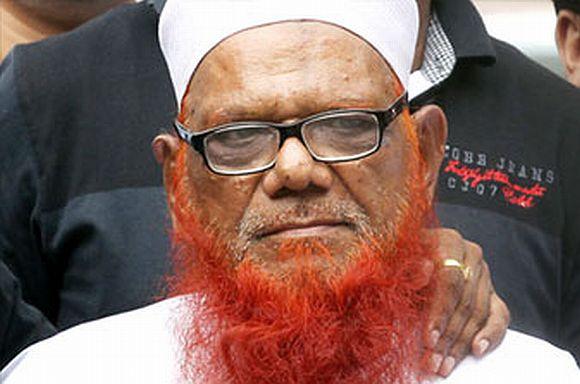 Abdul Karim Tunda, the Lashkar-e-Tayiba's bomb-maker, has revealed the terrorist organisation's salary structure and generous perks. Vicky Nanjappa reports.
For a notorious bomb-maker, Abdul Karim Tunda earned just Rs 5,000 a month as salary from the Lashkar-e-Tayiba.
Intelligence Bureau agents and police officers, who have interrogated scores of terrorists, reveal when someone joins the Lashkar -- which is among the richest terrorist organisations today -- they earn Rs 2,000 a month.
"This is just an appreciation fee; terrorists find it of no use," one investigator said.
Tunda and other terrorists revealed during their interrogation that the Lashkar ensures that all other needs --- clothes, shelter and food -- are taken care of and everything is paid for by the handler of each terrorist.
The Lashkar is extremely generous when it comes to helping its terrorists send money back home. Arrested terrorists said they are given anything between Rs 10,000 to Rs 15,000 once in two months to give their families.
According to Tunda, the Lashkar prefers recruits who believe in jihad.
'There was a time when we were hard pressed for recruits and hence started luring people with money. However, it was counter productive. We realised that such people did not sustain for long, and often gave away secrets when they were bribed by others,' Tunda told his interrogators.
He added that the new batch of recruits consists of only educated youth who have left behind their comforts to fight for the cause of jihad.
Tunda also revealed that while the salaries were low, the Lashkar does not think twice before spending money on operations.
Several million dollars are allocated for the procurement of arms and ammunition. When a terrorist is sent for a major operation, he is given a lot of money.
Most of the funding, Tunda told his interrogators, comes in through the Dawood Ibrahim criminal network and through the sale of counterfeit currency.
After Indian security agencies stepped up their vigil on the routes where counterfeit currency came into the country, the terrorists have expanded these operations to the United Arab Emirates, Singapore and Holland.
The main terrorist counterfeit currency printing unit is located in Peshawar; it was moved out of Islamabad a year ago.
Individuals involved in this racket demand a very high commission -- for every Rs 10 lakh (Rs 1 million) worth of fake currency circulated, the commission is Rs 1 lakh (Rs 100,000).