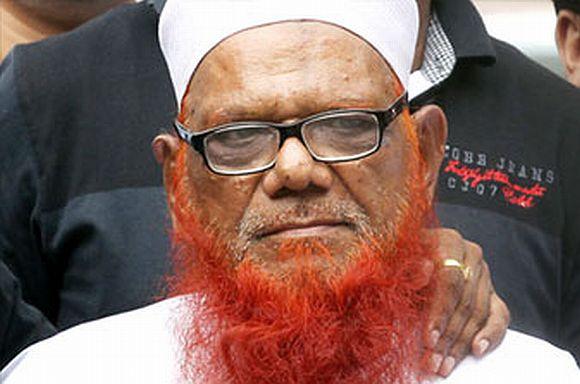 Abdul Karim Tunda, the alleged top Lashkar-e-Taiba bomb expert, on Tuesday told a Delhi court that he does not have money to hire a lawyer. Tunda, who was produced before Metropolitan Magistrate Jay Thareja in a packed court room, was asked as to who will represent him in the case.
"Sir, I do not have the money to pay to the lawyer," he told the judge. Earlier, a small group of lawyers surrounded Tunda when he was being taken inside the court room and tried to convince him that they be allowed to represent him.
However, advocate M S Khan later appeared and told the court that Tunda has already signed 'vakalatnama' (power of attorney) in his favour. Khan said that he had gone to the office of the special cell to get the papers signed from Tunda.
During the proceedings, the magistrate asked Tunda to come forward and apprise the court about his lawyer. Tunda said though he did not know much about advocate Khan, but he will represent him. "Sir, I do not have the money to pay to the lawyer," he said.
As soon as the proceedings began, the magistrate asked the police as to whether they have got Tunda medically examined before producing him in the court. Additional Public Prosecutor Rajiv Mohan told the court that Tunda has been medically examined but even before he could complete his submission, a lawyer interrupted the proceedings shouting "Tunda is a terrorist".
The magistrate and special cell officers who were present in the courtroom tried to calm down the agitated lawyer but he continued shouting and the commotion prompted the judge to order in-camera proceedings.
"The accused has been produced from police custody. In terms of section 327 of CrPC (it empowers the court to order in-camera proceedings), all the advocates, except advocate for the accused, the members of the press and other public persons are directed to leave the court room," the magistrate said.
According to the police, Tunda is one of the 20 terrorists India had asked the Pakistan government to hand over after the 26/11 Mumbai terror attack and is suspected to be involved in 40 bombings in the country.