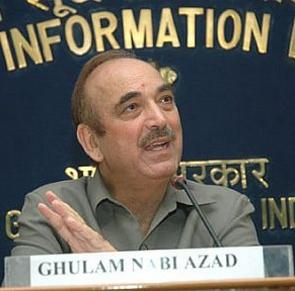 A Congress minister has defended the former Ghulam Nabi Azad-led Congress government in Jammu and Kashmir in the wake of the Comptroller and Auditor General's disclosure that it framed rules in violation of the Roshni Act under a Rs 25,000 crore land-transfer scam.
Hitting out at the CAG, Congress leader and Minister of State for Revenue Ajaz Ahmed Khan said its report, which forms the basis of the allegations, was "speculative".
"I felt that somewhere the report is wrong. It is based on presumption and speculation," Khan said during a press conference.
"The (CAG) report should have been based on facts. The Public Accounts Committee would deliberate on it and then it will come to us (and we will) see what we can do," Khan alleged.
He added that the State Vigilance Organisation had already started a probe into the matter and the JK government would cooperate with it.
Agreeing with charges that massive land transfers to encroachers under the Roshni Act was possibly the "biggest scam" in Jammu and Kashmir, the state's Principal Accountant General Subash Chandra Pandey had on Sunday indicted the Azad government of 2007 for making rules in violation of the law.