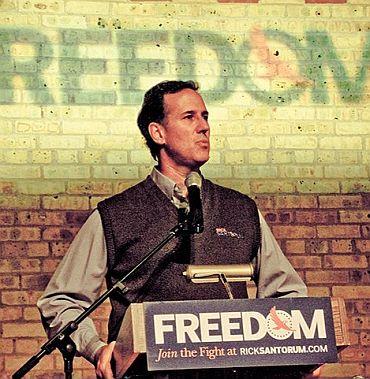 Republican presidential hopeful Rick Santorum has announced to suspend his campaign, a development which analyst said paved the way for his rival Mitt Romney to get the party's presidential nomination.

Santorum's sudden announcement on Tuesday came a day after his campaign said that his youngest daughter, Bella, has been released from hospital and that he would resume his campaign.

However, over the weekend the family of the former Senator from Pennsylvania had debate the latest in the current presidential campaign and they arrived at the conclusion that it was time to suspend the campaign.

"This was a time for prayer and thought, this past weekend, just like it was, frankly, when we decided to get into this race. Karen and I and the kids sat at the kitchen table and talked about our hopes and fears and concerns," 53-year-old Santorum said.

Declaring that his run had enabled "conservatives to have a voice" in the nominating process, Santorum cast his campaign as the longest of long-shot

enterprises.

"Miracle after miracle, this race was as improbable as any you will ever see for president," he said, insisting that while his candidacy is over, "We are not done fighting."

With this Romney is now all set to be the Republican nominee, even though he is yet to reach the magical figure of 1144 delegates to earn the presidential ticket. As of now he has 656 delegates. Romney was followed by Santorum with 272 delegates, Newt Gingrich (140) and Ron Paul (67).

Romney, the former Governor of Massachusetts, was quick to congratulate Santorum on suspending his campaign.

"Santorum is an able and worthy competitor, and I congratulate him on the campaign he ran. He has proven himself to be an important voice in our party and in the nation," he said.