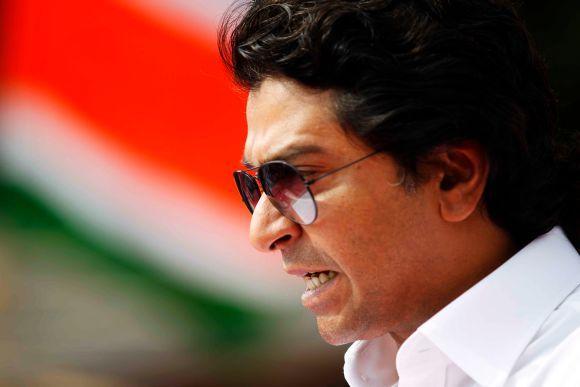 Maharashtra Navnirman Sena chief Raj Thackeray today criticised Asaram Bapu for allegedly wasting water at a pre-Holi celebration event even as the state has been reeling under worst drought.
"Asaram's act of wasting huge quantity of water when the state is facing severe drought is insensible and must be condemned", Raj told mediapersons in Yawatmal on Wednesday.
The controversial spiritual leader drew flak from all sections for allegedly wasting water while playing Holi with his followers at a function held in Nagpur recently.
The issue echoed in Maharashtra legislature as well with members taking exception to the act, against the backdrop of severe drought. Asserting that he was against playing second fiddle to Shiv Sena whose president Uddhav Thackeray had extended an olive branch to MNS to come on board for assembly elections next year, Raj said he preferred going solo as he was confident of victory.
"No party has grown like MNS in a short span of mere seven years. MNS holds sway over young voters as they believe in my leadership", he said.
Raj was interacting with mediapersons at Circuit House here as the part of his ongoing Vidarbha tour. Raj sought to question the rationale behind holding the winter session of state legislature in Nagpur.
"What is the output of these sittings? Holding the winter session in Nagpur is nothing but wastage of public funds", Raj said. The MNS chief said he was against the statehood demand for Vidarbha as bifurcation of Maharashtra would be against the interest of Marathi-speaking people.
On development backlog in Vidarbha, the MNS chief said, "If my party comes to power, I won't sanction any new project. On the contrary, I will expedite completion of already-sanctioned projects."