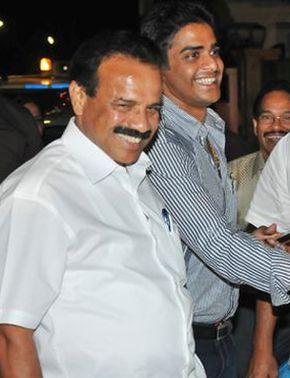 The Karnataka government on Thursday said the law would take its own course on the complaint of rape and cheating lodged by an actress against the son of Railway Minister Sadananda Gowda, who maintained he had been falsely implicated.
As the issue snowballed, the woman, a small-time model-turned actress, appeared on TV channels, insisting she was married to the minister's son' Karthik Gowda and their family should accept her as the daughter-in-law.
The issue also reached Karnataka Women's Commission, whose chairperson Manjula Manasa said the woman's sister had approached it. "I will talk to the woman and her family. An FIR has been registered. We will write to police department."
The woman alleged she and Karthik knew each other from May and got married in June in the presence of Karthik's driver. "I want his (Karthik) family to take me as their daughter-in-law and I will be good daughter-in-law to them."
On allegations that her photo with Karthik may be morphed, she said, "These are not morphed photos, because they were not taken by me. These were actually taken by his friends....which he sent me."
"Law will take its own course," Chief Minister Siddaramaiah said in his reaction.
The railway minister, who faced severe embarrassment over the unfolding drama, said in Kochi,"...it's a falsely implicated complaint ...you very well understand as a minister I'm here (in Kochi) today in spite of that complaint."
"I don't want to say anything, law will take its own course, even if it is my son or somebody law will take its own course. I will not interfere in the matter, I will do my duty," he said.
A case was booked on Wednesday night against Karthik under sections 376 (punishment for rape) and 420 (cheating) of the Indian Penal Code on the basis of the complaint filed by the woman on a day when his engagement ceremony with another woman took place at Kushalnagar in Kodagu district.
Karnataka Home Minister K J George said, "She has given a complaint. Investigation officer will probe into the complaint and will take action in accordance with law."
The government would in no way interfere in the case, he said, adding, "The investigation officer will be given a free hand."
Responding to questions on some allegations that the Congress is behind the incident, he said, "No one is behind it. A complaint has been registered and based on it an investigation officer will probe; we will not interfere in any way. I don't know who is behind it."
Image: Railway Minister Sadananda Gowda with son Karthik.