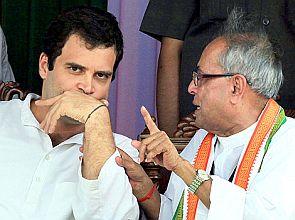 Congress Vice President Rahul Gandhi on Monday had lunch with President Pranab Mukherjee at the Rashtrapati Bhawan.

Sources said Rahul's meeting with Pranab follows the former's participation in the Congress Core Group meeting for the first time on July 12.

Rahul's participation has triggered speculation that he has now been formally made a core group member, a step towards his projection as the party's face for next Lok Sabha polls. He also heads a special group set up by the party for the 2014 Lok Sabha elections.
The Congress core group is an interface between the party and the government and is chaired by Sonia Gandhi, while Prime Minister Manmohan Singh, Finance Minister P Chidamabaram, Defence Minister A K Antony, Home Minister Sushilkumar Shinde and the Congress President's political secretary Ahmed Patel are its members.
The group usually meets every Friday at the Prime Minister's official residence and formulates opinion on key issues confronting the government.
The President has been interacting with top political leaders, including L K Advani, Sushma Swaraj, Arun Jaitley, Prakash Karat, A B Bardhan, Sharad Pawar, Lalu Prasad Yadav, Mulayam Singh and Mayawati, on a regular basis over lunch or dinner.

On July 25, Pranab completes his first year in the Rashtrapati Bhawan. On that day, he is expected to unveil a Gandhi statue inside the presidential palace.
Except Gujarat, Goa and two north eastern states, Pranab had visited almost all other states.
The President is also planning his second foreign visit to Turkey and Brussels in October.