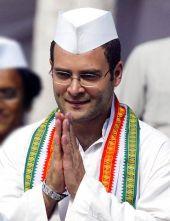 Congress Vice President Rahul Gandhi will hold a fresh round of consultations with the All India Congress Committee office bearers on March 6 during which a roadmap for future action for the party is likely to be unveiled as it prepares for Lok Sabha polls next year.
Party general secretary Janardhan Dwivedi said that as promised, Gandhi is getting back to the AICC leaders after receiving their suggestions in his first formal elaborate interaction with them between January 31 and February 4.
Gandhi's three-day meeting with AICC office bearers saw the party leaders complaining of uneven distribution of work, favouritism and demands to bring discipline and cohesiveness in the party's functioning.
Buoyed up by Gandhi's insistence for a "frank and open" discussion, the leaders had drawn his attention towards large number of problems plaguing the party as Gandhi told them that he wanted to know their opinion on "how to traverse the path ahead".
After the three-day interaction, Gandhi had promised them that he would meet them again and will go through their suggestions.
After the first meeting with AICC general secretaries, secretaries and Congress Working Committee in-charges for the states, Gandhi held consultations Pradesh Congress Committees presidents and Congress Legislature Party leaders of states in New Delhi on February 15 during which he sent signals of introducing performance-based "reward and punishment system" in Congress to tone up the functioning of the organisation.
He also set time-bound targets for the state Congress chiefs in the meeting asking them to step out of party headquarters and move into the field more often.
Gandhi later held an interaction with district and block level leaders in Odisha on February 18 and 19 beginning his state wise tours to interact with the grassroots. A number of other states followed suit.
He has earlier hinted that he would prefer that the party functions strictly as per set rules and procedures and has been giving strong message on the issue of indiscipline in Congress. He recently said that there was "tremendous talent" which needed to be aligned.