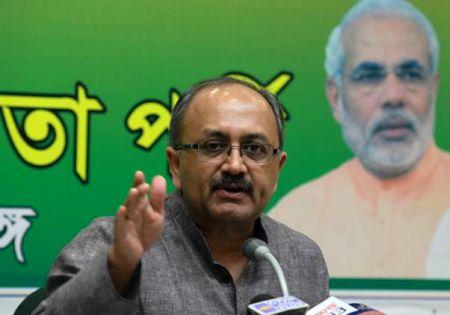 The Bharatiya Janata Party has likened Congress vice president Rahul Gandhi to a "child, who refuses to grow old," this time over his tweet on the controversy surrounding the saffron party chief Amit Shah's son, Jay Shah.
Lashing out against the Congress leader, BJP leader and Uttar Pradesh Health Minister Siddharth Nath Singh said Rahul was a 'balak' (male child), who refuses to step out of his diaper pants.
Singh took to Twitter and uploaded a clip of his press conference with a caption, "#RahulGandhi doesn't try to learn before he tweets. It is like a baby who refuses to get out of his diaper. @BJP4India @PMOIndia @UPGovt"
Singh can be seen saying, in the video, "I want to say this, and this is the biggest misfortune of the Congress that Rahul Gandhi refuses to grow old. He is like a child who doesn't want to step out of his diaper."
Rahul had on Monday tweeted, "We finally found the only beneficiary of demonetisation. It's not the Reserve Bank of India, the poor or the farmers. It's the Shah-in-Shah of demo. Jai Amit."
"If he had studied, he would have observed that Jay Shah had wound up his business in October, 2016 while demonetisation was rolled out on November 8, 2016," Siddharth Nath Singh added, while addressing the media.
"Modiji, Jay Shah zyaada kha gaya. Aap chaukidaar thhe ya bhaagidaar? Kuchh toh boliye [Modiji, Jay Shah took in more than he should have. Were you a watchdog or a participant? Say something," Rahul had tweeted again in the evening.
Jay Shah has filed a defamation suit against author, editor and owner of the news website 'The Wire' in an Ahmedabad court, for alleging huge growth in his firm's turnover in a year.
The hearing of the matter is scheduled for October 11.