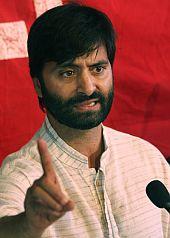 Jammu and Kashmir Liberation Front leader Yasin Malik, who is under attack for meeting terror outfit Lashker-e-Tayiba chief Hafeez Saeed in Pakistan, returned to India on Saturday amid protests by Shiv Sena activists at the airport in New Delhi.
Malik, who arrived by a Pakistan International Airlines flight from Islamabad, faced a volley of questions by newsmen for sharing dais with Saeed, wanted by India in connection with 2008 Mumbai attack.
The separatist leader said he had not invited Saeed, the 26/11 mastermind, at the rally called in Islamabad to protest hanging of Parliament attack convict Afzal Guru last month.

"What's the crime I have committed? I neither invited him nor was I organising the protest rally. I was an invitee myself," said Malik, who was accompanied by S A R Gilani. Gilani was acquitted in the Parliament attack case.

The JKLF leader said the Government was free to act and withdraw his passport, which was due to expire on March 19.

"I wonder why I am being targeted now. I had met Saeed in 2006," he said.
As he was speaking to reporters, a group of Shiv Sanik activists tried to hit him but the attempt was foiled by the police personnel who had anticipated trouble upon his arrival.
Asked what could be his stand in case he was questioned or detained by police, Malik shot back "let me rot in jail" and repeated JKLF's stand on Kashmir issue.
Ahead of Malik, moderate Hurriyat Conference group led by Mirwaiz Umer Farooq had also visited Pakistan where they had met Saeed. Mirwaiz later complained that his passport was not cleared for renewal in time last month that would have facilitated his visit to Egypt for a meeting of the Organisation of Islamic Conference