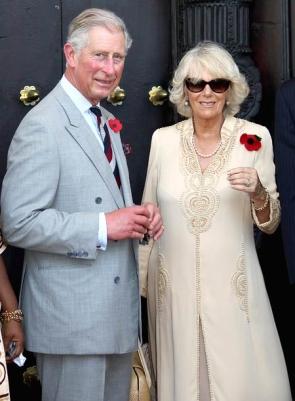 Prince Charles and his wife Camilla Parker-Bowles will make a nine-day visit to India next month on their way to Sri Lanka for the Commonwealth heads of government meeting.
This will be the royal couple's third official visit to India together. The trip, from November 6 to 14, will take them to Dehradun, New Delhi, Mumbai, Pune and Kochi.
The heir to Britain's throne is representing his mother, Queen Elizabeth II, at this year's meet as the 87-year-old monarch cuts back on long-haul travel.
Charles and Camilla will "undertake a broad range of engagements to promote the strong United Kingdom-India partnership in key areas such as conservation, education, growing business links, women's empowerment and training", an official statement from the prince's Clarence House residence said.
"They will also have the opportunity to celebrate religious diversity, creativity and the vibrant individual family ties between the two countries," it said.
The royal couple will meet political, business and cultural leaders in their most extensive tour of India to date. This is also Charles' eighth official visit to the Commonwealth's most populous country.
Some specific events include Charles making an off-road trip into an "elephant corridor" in Kerala, Camilla visiting the prestigious Doon School in Dehradun, and both visiting the Indian Military Academy and attending a gala dinner with a Bollywood flavour in Mumbai.
While in India, they will also observe Remembrance Sunday, which marks the end of World War I in 1918. The Prince of Wales was previously accompanied by wife Camilla on visits to India in 2006 and 2010.