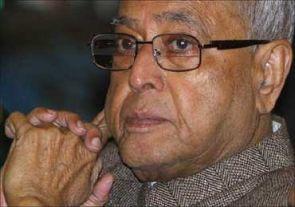 President Pranab Mukherjee on Friday stressed on the need for constant risk analysis in the light of continuous decline in security scenario globally so that the country's security establishment is prepared with dynamic responses to any threat.
Mukherjee called for an increased use of science and technology in defence preparedness, saying it has become a "necessity" these days.
"Our country desires a stable and rule-based international system. It is a matter of deep concern that the international security environment continues to decline. This calls for a constant review of the risk scenario so that our security establishment is ready with dynamic responses to any threat," Mukherjee said in his address to seventh convocation of Defence Institute of Advanced Technology in Pune.
"There is need for domain knowledge, and to develop capabilities and strengthen systems through innovation. Policy making should be proactive to identify problems, highlight trends, develop scenarios and recommend policy options, so as to avert any crisis.
"We must, therefore, have a pool of institutions in our country dedicated to raising the technological capabilities of our defence systems and expanding the knowledge frontier on issues of defence and security," he said.
Mukherjee said the country has adopted a strategy of high economic growth to overcome poverty and ensure equitable development.
"Our future growth will depend increasingly on the knowledge economy. Our higher education sector must be equipped to face this challenge. Despite a credible infrastructure in our country -- over 650 degree awarding institutions and over 33,000 colleges -- we are confronted by lack of quantity and quality.
The country is short of good quality institutions to meet the increasing demand, he said, adding that a survey found that none of India's academic institutions finds a place among the top 200 universities in the world.
Mukherjee said for about 1,800 years beginning 6th century BC, Indian universities such as Takshashila, Nalanda, Vikramashila, Valabhi, Somapura and Odantapuri had dominated the world education system.
"...Today, our universities are no where in the top global rankings," he said. A culture of excellence should be ushered in by allowing adequate flexibility in different aspects of academic management, the President said.
"Our universities should make greater use of e-education to address the problems of accessibility, quality and faculty shortage," the President said.
India's progress will depend on its ability to operate on the frontiers of science and technology, he said. "A sound knowledge base will determine our economic strength, energy security and defence preparedness."
Mukherjee rued that a culture of innovation was sadly lacking in the country.
"Only 42,000 patent applications were filed in India in 2011. This number is twelve times in countries such as China and the United States. We have the capability to innovate, but we lack the systems that can encourage us to do so," he said.
"To develop research expertise in key areas, we must have a flexible system to attract Indian scientists and technologists working abroad to work on short-term projects. We must strengthen measures such as inter-disciplinary and inter-university research partnerships, research fellowships and industry incubation parks," Mukherjee said.
As a specialised defence research and technology university, DIAT has a crucial role to generate state-of-art knowledge to fulfil the needs of the country's defence establishment, he said.
The President suggested educational institutes to act as mentor to shape grassroot innovations.
"The decade 2010-20 has been declared the decade of innovation. This should have meaning for the common man. There are grassroot innovations that can be developed into viable products. For that, our universities and research institutions should provide technological mentoring," the President said.
Remembering his visit to DIAT in 2006 as then defence minister, Mukherjee said the institute has pursued a harmonious approach to achieve a healthy synergy between fundamental and applied sciences.
"It (DIAT) has complemented the efforts of the Defence Research and Development Organisation by carrying out research leading to development of new technology," he said complimenting Defence Minister A K Antony, who was present at the function, for supporting the institute.
Established in 1952, the DIAT became a deemed university in 2000. Today, it is a unique academic institution for research-oriented education and for carrying out fundamental and exploratory research in advanced defence technologies.