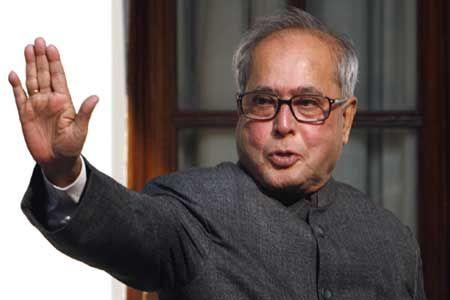 Underlining the role of civil society movement led by Anna Hazare in drafting the Lokpal bill, President Pranab Mukherjee on Saturday said this was the first time that a law was made with public participation, hitherto an exclusive domain of legislature.
"For the first time in Indian politics, legislation ceased to be the exclusive prerogative of federal or state legislatures. Civil society demonstrated that they play an important and effective role in the legislative process and a new dimension was added to parliamentary politics," he said.
The President delved on the fine details and history of the Bill, which was passed recently, as he addressed students and faculty members of the Jawaharlal Nehru University in New Delhi.
He said that from the 1970s, the people of India have wanted the Lokpal to become a reality.
"When Shri Anna Hazare started his agitation for a strong Lokpal, he received support from a wide spectrum of society. No responsible and responsive government could ignore the huge public upsurge in support of the Lokpal Bill.
"That is why the government decided to depute five senior ministers to sit down with five representatives chosen by Shri Anna Hazare and finalise a draft bill for introduction in Parliament," he said while delivering the 10th Nehru Memorial Lecture on 'Nehru and Parliamentary Democracy'.
Mukherjee had headed the group of ministers on Lokpal when he was the Union Finance Minister.
The agitation for the Lokpal Bill, Mukherjee said, "thus showed that civil society can also take the lead in initiating legislation."
The President also expressed his concern over constant disruptions occurring during Parliament sessions and the "irresponsible manner in which important legislation including the Budget gets passed with hardly any discussion."
"Dissent should be expressed with decency and within the contours and parameters of parliamentary devices. Democracy should comprise of the three Ds– 'Debate', 'Dissent' and 'Decision' not 'Disruption'," he said.
He said that people of the country are the masters in a democratic setup.
"No one who holds any elected office, including me, has been invited by the voters to occupy that office. Each one has gone to the voters and pleaded for their votes and support. The trust placed by the people in the political system and those elected should not be betrayed," he said.