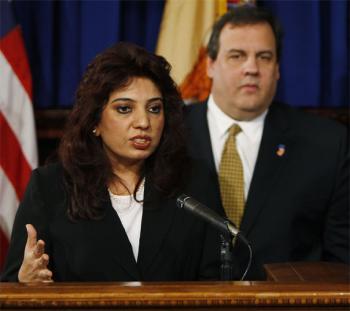 New Jersey Governor Chris Christie named Dr Poonam Alaigh, director of Horizon Blue Cross Blue Shield of New Jersey, as the commissioner of the state Health and Senior Services Department, a cabinet post.
Alaigh, 45, has a multifaceted background in health care administration and delivery, including clinical practice, hospital practice, hospital administration, managed care, pharmaceutical medicine, and health care policy.
The governor, a Republican, belied the fears that he may not include Indian Americans in senior positions in his administration by the appointment of Alaigh, who is also working as an assistant professor in the department of family practice at University of Medicine and Dentistry/Robert Wood Johnson University Medical School.
At Horizon, she is responsible for the major clinical areas. Prior to joining Horizon, she served as national medical director for GlaxoSmithKline and was working with health plans on a number of national issues, including better use of healthcare technology, the reduction of disparities in health care and healthcare access to the under and uninsured population.
She practises medicine at the New Jersey Veterans Administration Hospital in Lyons and is a member of the College of New Jersey Board of Trustees and has served as president of the American Heart Association of North Jersey.
"It is important we have a qualified team with the attitude and willingness to get to work, make tough decisions and strive for results. These appointments will assure that the status quo isn't acceptable and the health and education of New Jersey's citizens will be in the best of hands," Governor Christies said, announcing Alaigh's name.
The state Senate has to confirm her appointment. Alaigh said her first priority is to help the governor balance the budget.
She earned her MD and her masters in healthcare policy and management from State University of New York at Stony Brook. Alaigh is one of the founding members of SATHI (the South Asian Total Healthcare Initiative) a program of the UMDNJ.
Assembly man Upendra Chivukula, a Democrat, welcomed her nomination, having asked her to be a founding member of SATHI launched last year to promote culturally competent' health care for South Asians. "With her experience as a doctor and working in the corporate health care sector, she is very approachable and she knows all the issues firsthand,'' Chivukula said.
Alaigh had served on Governor-Elect Corzine's Transition Team on health care policy, strategies and issues in 2005.
She is a board-certified internist with a specialty in vascular diseases. She published research papers on vascular disease and population health.
Horizon is the largest health insurer in the state, which hired Alaigh 10 months ago as its executive medical director for quality and care management.