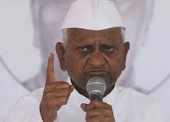 Anti-corruption crusader Anna Hazare on Saturday said the country's politicians have looted the nation more than the Britishers did in over a century before Independence.
"In 150 years, the Britishers did not plunder the country as much as the leaders of this nation have looted. The country requires a Jan Sansad (parliament of the people) which will be convened in Delhi within six months," Hazare said, addressing a public meeting in Narnaund town of the district during his 'Jantantra Yatra'.
The septuagenarian said there is a need to change the country's political system, which has been "polluted" by corruption.
Criticising the holier-than-thou attitude of politicians, the anti-corruption crusader said it was unfortunate "that the public servants have become masters of the public. The government is cheating with masses and in a period of two years it could not introduce Jan Lokpal bill. Power is in the hands of people but they should unite for this great cause".
"We shall not contest any election nor shall we take part in politics of elections but shall work for the countrymen," he said.
Addressing a public meeting of 'Jantantra Yatra' on Friday night former army chief General V K Singh had said the country needed a system where the government was run like an Army unit, for which the nation is above any caste or religion.