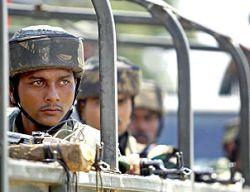 Militants shot at and critically injured a policeman in south Kashmir's Anantnag town on Friday evening.
A senior police officer said militants opened fire from a close range at a police constable identified as Abdul Rashid in the Janglat Mandi area of Anantnag.
"The cop was critically wounded and rushed to hospital for treatment," said the officer.
The area was searched by the police, he added.
Photograph: Reuters