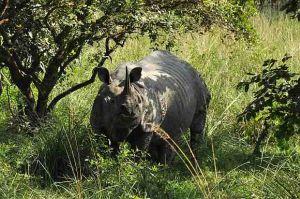 Assam Environment and Forest Minister Rakibul Hussain said that as many as 193 one-horned rhinos have been killed in protected forest areas in Assam between 2001 and August 3, 2014.

A total of 126 rhinos were killed by poachers in the famous Kaziranga National Park, 31 rhinos were killed in Orang National Park, 14 in Pobitora Wildlife Sanctuary, 7 in Manas National Park, and 15 in other forest divisions.

According to official figures, the highest number of incidents of rhino-poaching took place in the year 2013, when 41 rhinos were poached, including 27 at the KNP, 5 in Manas Park, 3 in Orang, 2 in Pobitora and 4 in other divisions.

22 rhinos have been killed by poachers in Assam this year.

The minister informed that an Anti-Rhino Poaching Task Force had been formed in the state and forest personnel were provided with sophisticated weapons.

Provisions in the law have been amended to hand out stringent punishment to poachers so that it could serve as a deterrent. For ensuring better wildlife policing, the vulnerable KNP is being divided into four forest divisions.

The state government has also approached the Centre seeking permission for using unmanned aerial surveillance vehicles, besides putting into use night-vision equipment as part of the anti-poaching measure.

Besides, elevated zones have been created at the parks so that rhinos do not become victim to poachers during floods. Electronic fences have been erected at some places, he added.

In the KNP, 68 poachers were nabbed on charges of killing rhinos in 2013, and so far in 2014, 22 have been arrested.
In 2013, 5 poachers were gunned down, while 13 have been killed during the first 7 months of 2014.