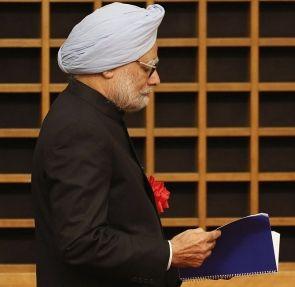 Coming to the defence of Prime Minister Manmohan Singh, Union Coal Minister Sriprakash Jaiswal on Thursday said he does not need a certificate of honesty from anyone.
Opposition Bharatiya Janata Party has demanded prime minister's resignation following allegation by former Coal Secretary P C Parakh that Singh knew of the coal blocks being allocated to companies like Hindalco and he too should be named as a "conspirator" and made an "accused".
"The entire nation knows about the commitment and honesty of the prime minister. He does not need any certificate from any quarter to prove his honesty," Jaiswal told reporters.
Parakh, who has been named in the FIR filed by the Central Bureau of Investigation for alleged irregularities in coal block allocation to Aditya Birla firm Hindalco, had on Wednesday said that the final decision lay with the prime minister who held the coal portfolio at the time.
He said if the CBI thinks that there is a conspiracy, "Why did they choose and select Birla and me and not the PM".
Jaiswal cautioned that everyone should refrain from issuing such statements which could weaken the economy of the country or prevent bureaucracy from working.
"Everyone should take precaution that no such statements are issued which could impact market sentiments, weaken the economy or could prevent bureaucrats from working, he said, without referring to any specific person or party.
Jaiswal refused to comment further on coal block allocation controversy saying that "any comment on it by me would not be proper as CBI is probing the matter and the Supreme Court is also reviewing it".
He reiterated that auction process for allocating coal blocks in a transparent manner was likely to begin in two months span.
Image: Prime Minister Manmohan Singh
Photograph: Reuters