President Pranab Mukherjee on Sunday cautioned the government against using the ordinance route to bring in a law, saying it should be used only in a compelling situation and not taken recourse to in monetary matters.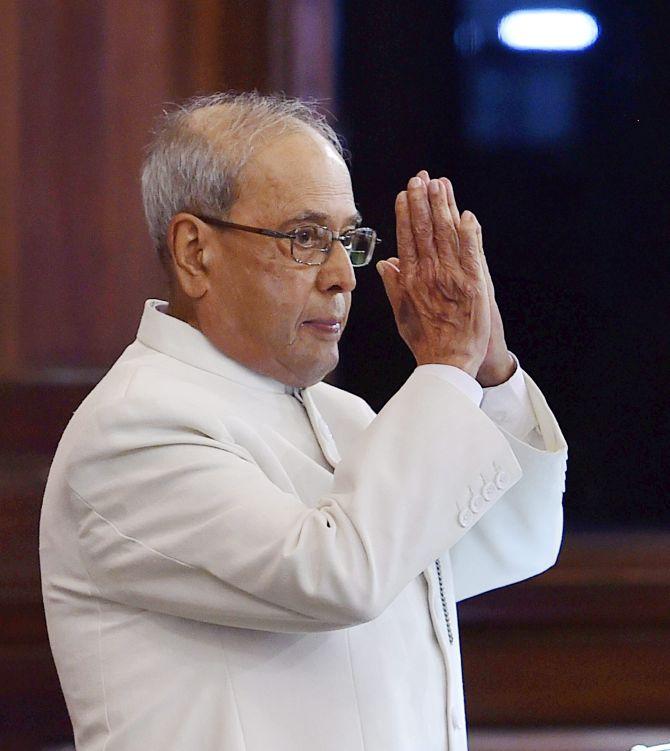 IMAGE: President Pranab Mukherjee gestures during his farewell ceremony in the Central Hall of Parliament in New Delhi on Sunday. Photograph: Shahbaz Khan/PTI Photo
At a farewell function in Parliament, he also told the opposition not to disrupt proceedings in the two Houses as it took away from it the opportunity to raise people's concerns.
"I am of the firm opinion that the ordinance route should be used only in compelling circumstances and there should be no recourse to ordinances on monetary matters," he said.
The hour-long function was attended by Vice President Hamid Ansari, Prime Minister Narendra Modi, former prime ministers Manmohan Singh and H D Deve Gowda, Lok Sabha Speaker Sumitra Mahajan, Congress chief Sonia Gandhi, Congress vice president Rahul Gandhi, Union ministers, besides political leaders and MPs.
Mukherjee said the ordinance route should not be taken on matters which are being considered or have been introduced in Parliament or pending before a House committee.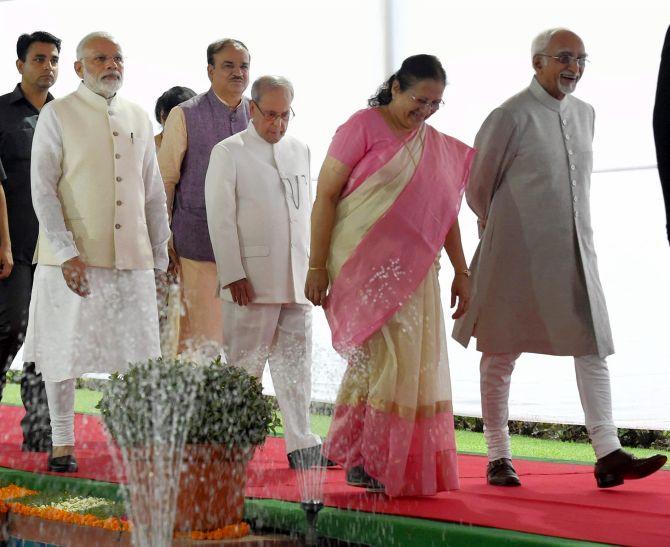 IMAGE: President Mukherjee with Vice President Hamid Ansari, Prime Minister Narendra Modi, Lok Sabha Speaker Sumitra Mahajan and Parliamentary Affairs Minister Ananth Kumar proceeds to Centra Hall. Photograph: Atul Yadav/PTI Photo
"If a matter is deemed urgent, the committee concerned should be made aware of the situation and should be mandated to present its report within a stipulated time," he said.
The president's remarks bear significance as after repeatedly failing to amend the Enemy Property Act, 1968 in last three years, the Modi government had promulgated five ordinances. The Bill was passed by Parliament in March.
Senior Union ministers were reportedly deputed to convince the president to sign the fourth and fifth enemy property ordinances as he was against promulgating them.
Mukherjee said he was "greatly benefited" from the advice and cooperation extended Modi at "every step".
"With passion and energy, he (Modi) is driving transformational changes in the country. I will carry with fond memories of our association and his warm and courteous behaviour," he said.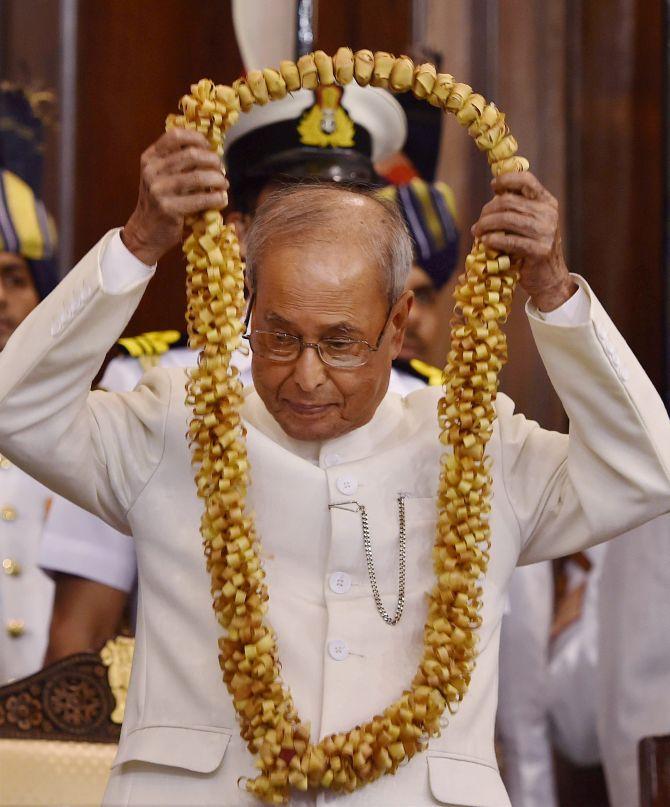 IMAGE: President Pranab Mukherjee is garlanded as Parliament bids farewell to him. Photograph: Shahbaz Khan/PTI Photo
The outgoing president, who will demit office on Tuesday, said he was "mentored" by late prime minister Indira Gandhi whose "steely determination, clarity of thought and decisive action made her a towering personality".
He said she never hesitated to call a spade a spade.
Mukherjee recalled during a visit to London with Gandhi after the Emergency, she had told journalists, "In those 21 months, we comprehensively managed to alienate all sections of Indian people."
Recalling his days as a member Parliament which he entered in 1969 as Rajya Sabha member, Mukherjee said by listening to stalwart in the Treasury and opposition benches, he understood the real value of debate, discussion and dissent.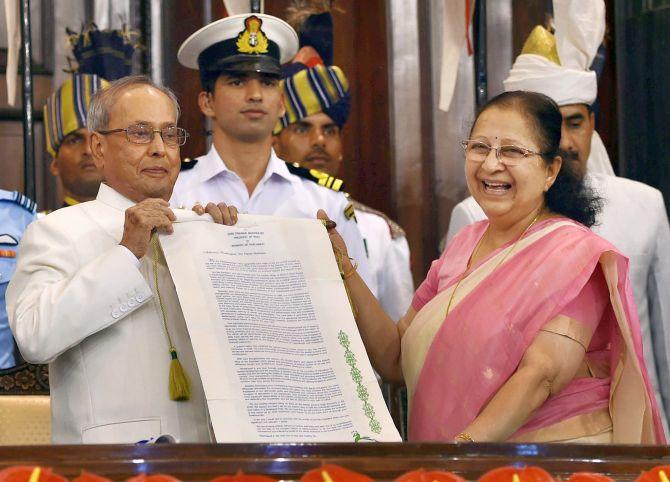 IMAGE: Mukherjee is presented a scroll by the speaker on behalf of all the MPs. Photograph: Shahbaz Khan/PTI Photo
"I realised how disruption hurts the opposition more than the government as it denies it the opportunity to raise the concerns of the people," he said.
Mahajan said Mukherjee is respected for his impeccable knowledge of constitutional and parliamentary rules and procedures and exemplary memory of events and precedents.
"You have been a 'guru' from whom generations of parliamentarians have received lessons on the operational dynamics of our parliamentary polity," she said.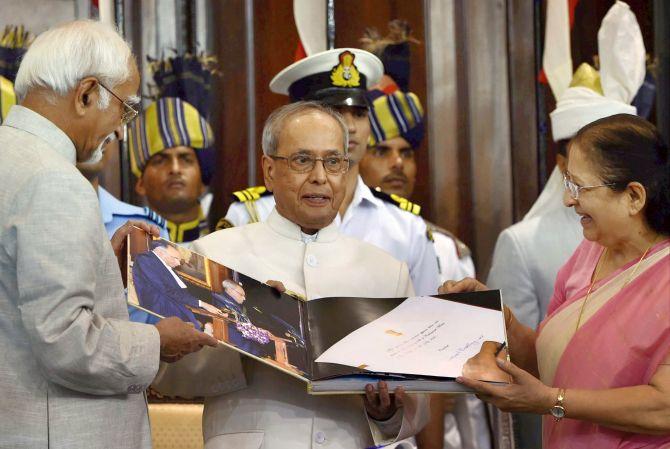 IMAGE: Mukherjee was also presented a coffee-table book by Ansari and Mahajan. Photograph: Shahbaz Khan/PTI Photo
Mahajan said the president's admirable administrative acumen and efficiency have played pivotal roles in shaping appropriate responses to various momentous events and challenges before the nation at large.
Lauding Mukherjee contributions, Rajya Sabha Chairman Ansari said his views and pronouncements on issues of national and international importance have enhanced the stature of the high offices held by him.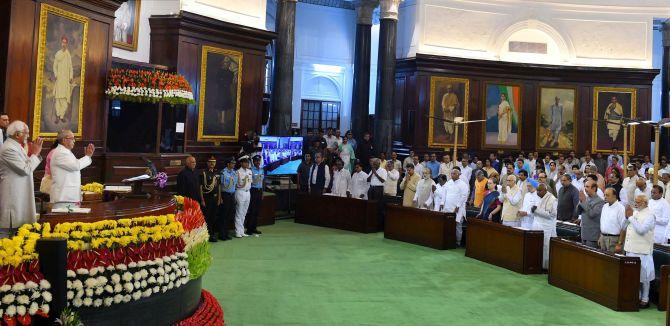 IMAGE: Mukherjee gestures after his speech during his farewell ceremony. Photograph: Shahbaz Khan/PTI Photo
"From the highest pedestal, he has, on several occasions, urged citizens to rededicate themselves to the cause of upholding the democratic values.
"He has spoken with conviction about India's pluralism and diversity being her greatest strength and the need to constantly nurture and protect them," he said.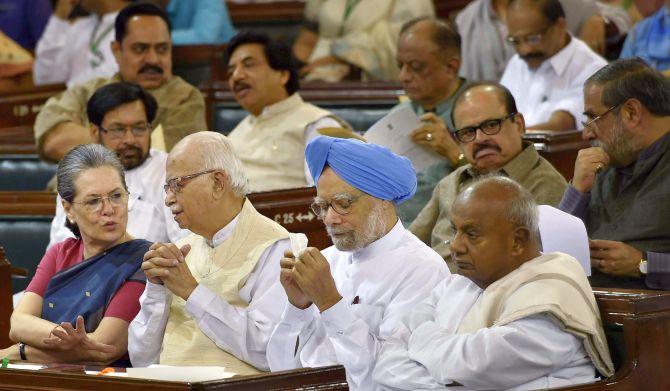 IMAGE: Former Prime Ministers Manmohan Singh and HD Devegowda, BJP veteran LK Advani and Congress President Sonia Gandhi during the farewell ceremony of the outgoing President. Photograph: Shahbaz Khan/PTI Photo
Ansari recalled that at a farewell dinner for governors and lieutenant governors last week, Mukherjee had spoken about the constitutional design by which "there cannot be two functional executive authorities in a state" and the governor's role, therefore, is "mainly confined to giving advice to the chief minister".
"He (Mukherjee) added that in certain situations, the governor has no discretion but to accept the verdict of the floor test," the vice president said.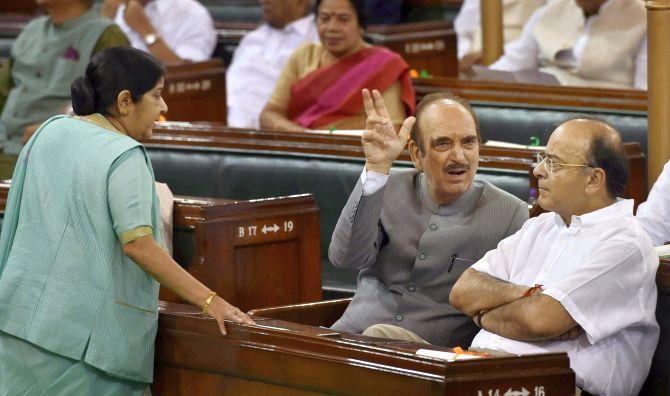 IMAGE: Finance Minister Arun Jaitley, External Affairs Minister Sushma Swaraj and Leader of Opposition in the Rajya Sabha, Ghulam Nabi Azad at the ceremony. Photograph: Shahbaz Khan/PTI Photo
Mukherjee was presented a coffee-table book by the Speaker on behalf of the MPs.
Later, Mukherjee attended a high-tea in Parliament House.