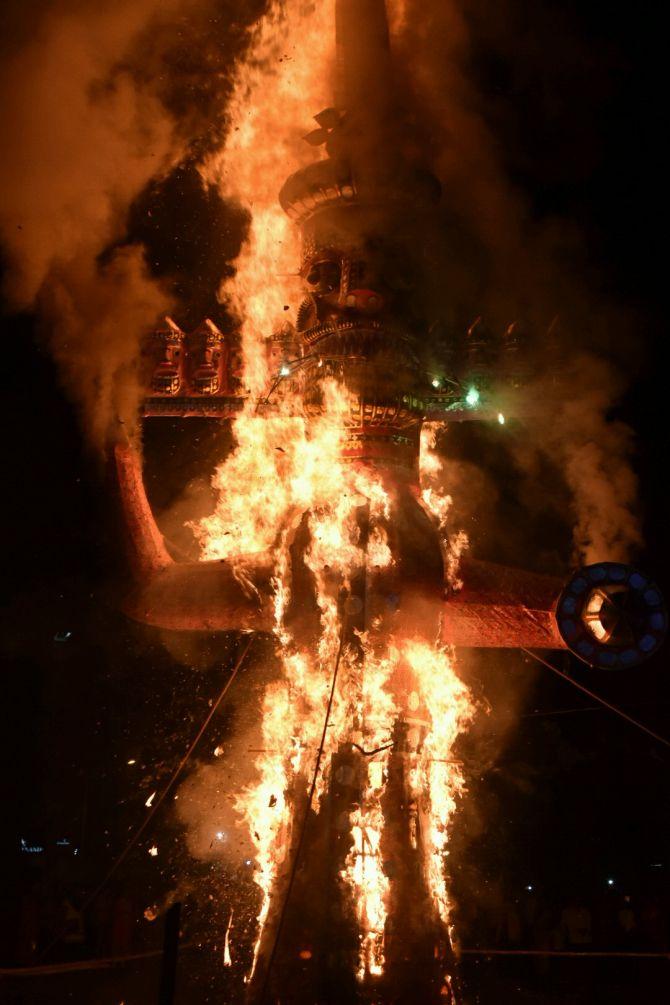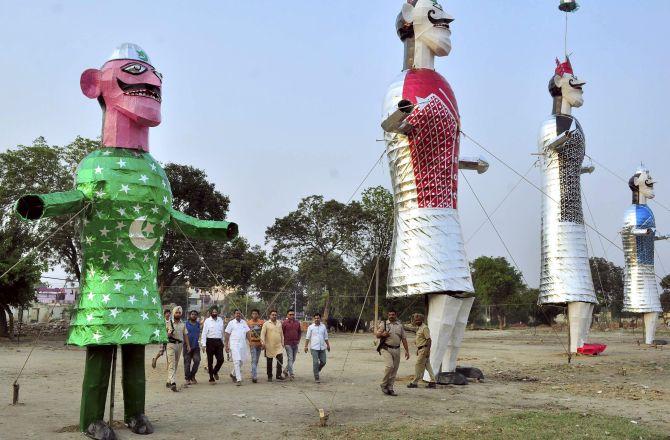 IMAGE:

An effigy representing Pakistan erected with the effigies of Ravan, Meghnad and Kumbkaran on Dussehra in Patiala

. Photograph: PTI Photo
People across the country on Tuesday celebrated Dussehra with traditional burning of effigies of Ravan, his son Meghnad and brother Kumbhakaran, which marks the victory of good over evil. Effigies symbolising terrorism, terrorists and Pakistan were also put to flames.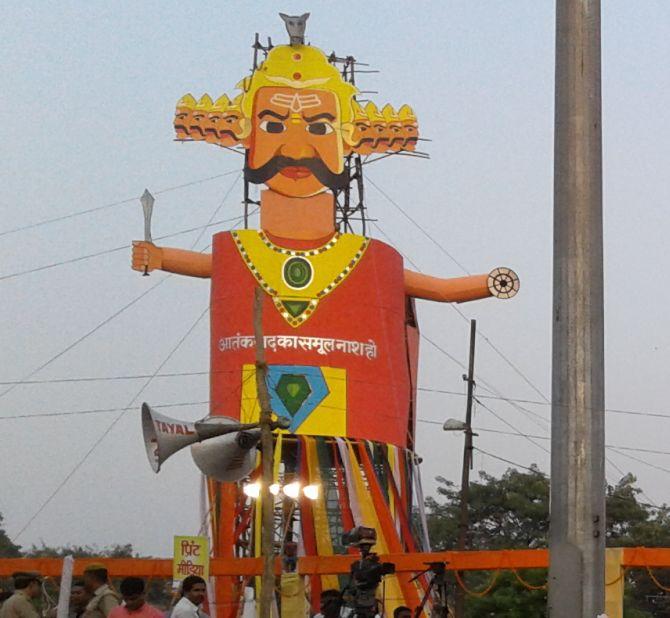 IMAGE: The effigy at Aishbagh in Lucknow. The text reads, 'Atankwad ka samool naash ho (let terrorism be eliminated)'. Photograph: Sandeep Pal/Rediff.com
With security personnel keeping a hawk-eye vigil, the festivities passed off peacefully across the country as crowds burst into cheers with fire crackers-stuffed effigies crackling in splendour.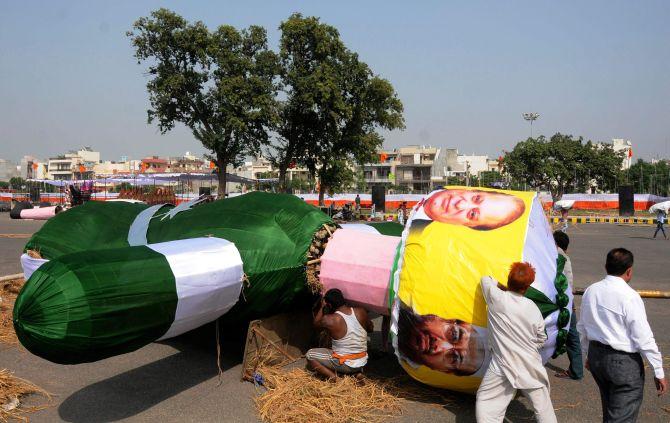 IMAGE: Labourers work on an effigy with portraits of Pakistani Prime Minister Nawaz Sharif and Lashkar-e-Tayyaba chief Hafiz Saeed on it in Amritsar. Photograph: PTI Photo.
Prime Minister Narendra Modi while addressing people on the occasion in Lucknow said no one should feel they are safe from terrorism as it has no boundary or morality.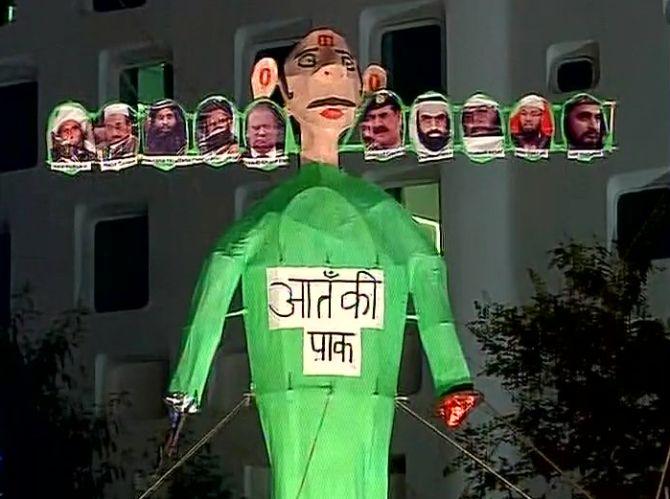 IMAGE: Ravan's effigy at IP Extension in New Delhi with photos of Pak PM Nawaz Sharif, Army chief General Raheel Sharif, Hafiz Saeed and other terrorists. The text reads, 'Aatanki Pak (terrorist Pakistan).' Photograph: ANI
President Pranab Mukherjee, Vice President Hamid Ansari, former prime minister Manmohan Singh and Congress president Sonia Gandhi were present at the Delhi event at Ramlila Maidan.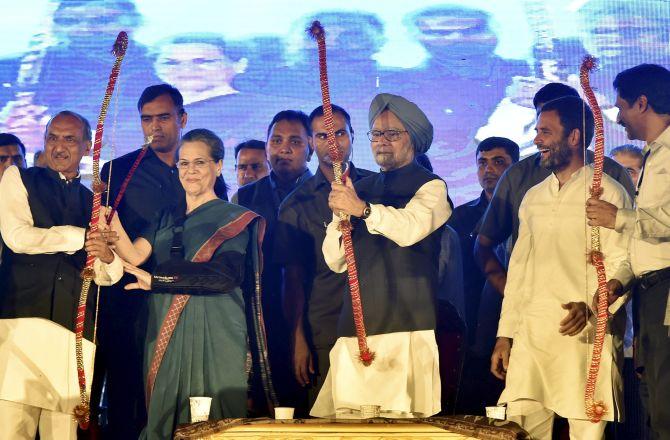 IMAGE: Congress President Sonia Gandhi, former PM Manmohan Singh and Congress vice president Rahul Gandhi holding bows and arrows during Dussehra celebrations of Nav Shri Dharmic Leela Committee at Red Fort Ground in New Delhi. Photograph: Kamal Singh/PTI Photo

At many places, particularly in Punjab's Amritsar and Ludhiana, effigies symbolising 'terrorism' and 'Pakistan' were also burnt along side those of Hafiz Saeed.
In Indore, however, a large number of people worshipped Ravan and celebrated the day as 'Ravan Moksha Diwas' as part of their 46-year-long tradition and appealed people not to burn effigies of the 'Dashanana'.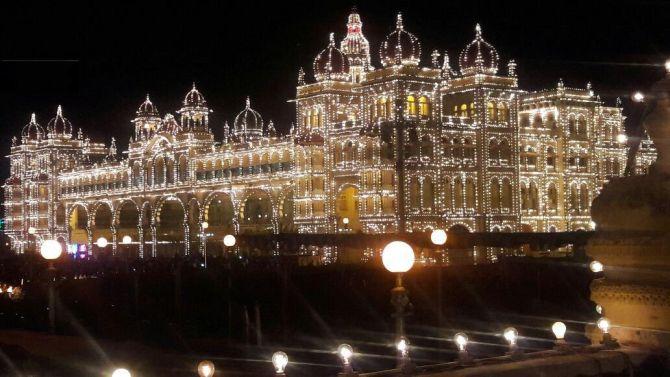 IMAGE: Mysuru Palace lit up for Dussehra celebrations. Photograph: ANI
In Karnataka, curtains came down on the festivities with an impressive 'Jambo Savari' (procession of caparisoned elephants) with thousands of people watching amidst rains.
Several functions were organised in Jammu region of Jammu and Kashmir state and effigies were set on fire by actors dressed as Lord Ram and Lakhshman.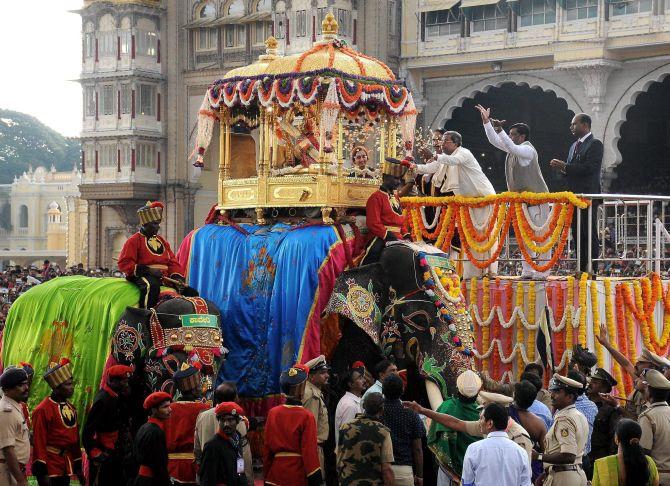 IMAGE: Karnataka CM offers flower petals on Maharaja Yaduveera Krishnadatta Chamaraja Wadiyar riding an elephant in a procession during the Dussehra celebrations at the Mysuru Palace in Mysuru. Photograph: PTI Photo

The main functions were held in Parade ground and the Dussehra ground in Gandhinagar.
Traditional fervour marked Dussehra celebrations in Maharashtra as markets wore festive look with people dressed in traditional attires shopped for puja and decorative items.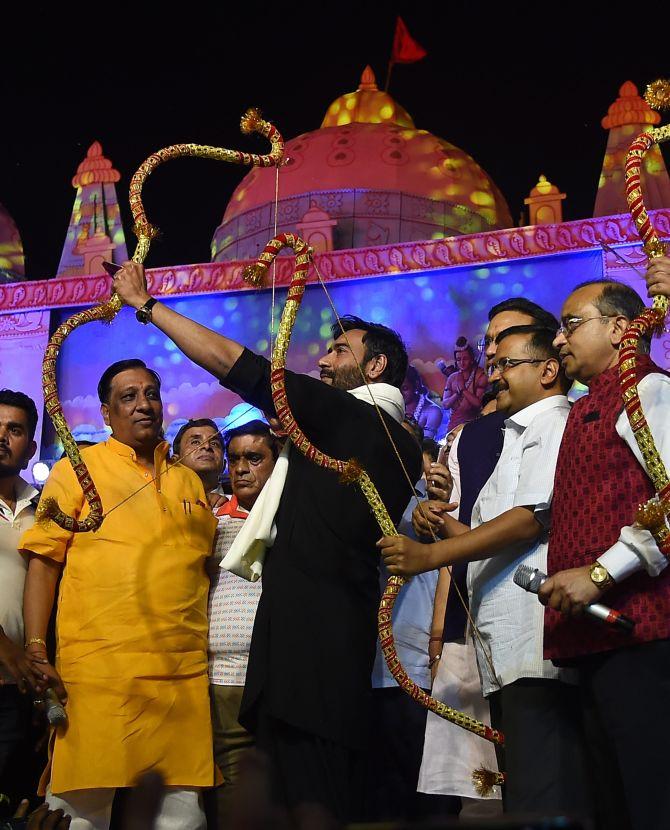 IMAGE: Delhi CM Arvind Kejriwal and and actor Ajay Devgn hold bows during Dussehra celebrations of Luv Kush Ramlila Committee at Red Fort in New Delhi. Photograph: Shirish Shete/PTI Photo

In Rajasthan, fairs were held and effigies burnt in public grounds in Mansarover, Adarsh nagar, sanganer, Vidhyadhar nagar and other places to mark the occasion.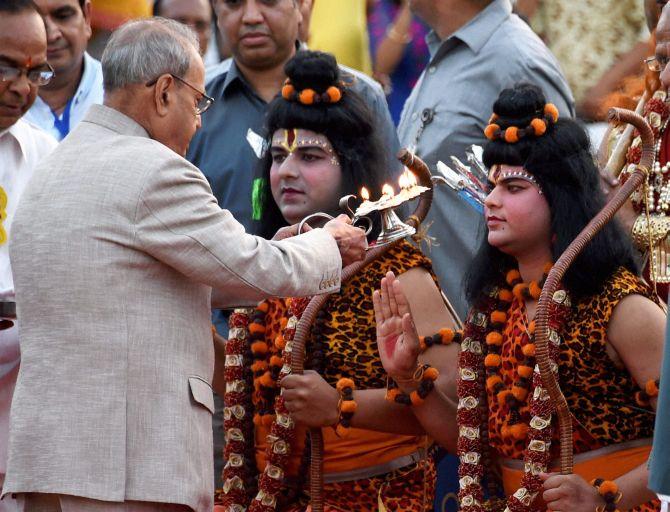 IMAGE: President Pranab Mukherjee performs aarti of the artists enacting Lord Ram and Laxman during Dussehra celebrations of Shri Dharmic Leela Committee at Red Fort ground in New Delhi. Photograph: Subhav Shukla/PTI Photo

In Kolkata, the festival ended on Tuesday with the immersion of idols as the goddess left for her abode in Kailash at the end of her annual sojourn on earth.
According to Kolkata Police, nearly 1,000 idols were immersed till 6 pm.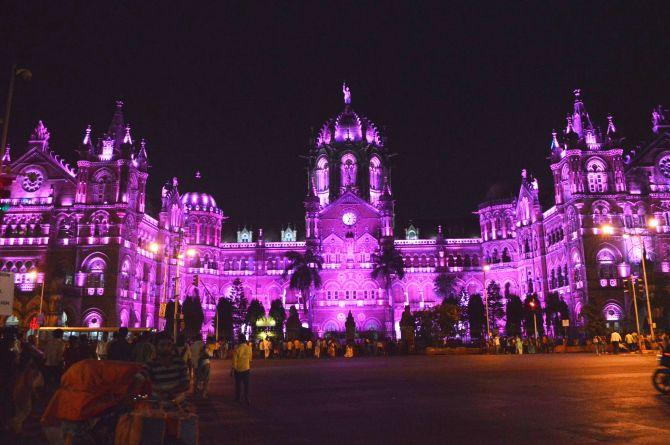 IMAGE: Mumbai's iconic Chhatrapati Shivaji Terminus Station lit up. Photograph: Sahil Salvi.
In Himachal Pradesh, International Kullu Dussehra got off to a spectacular start with traditional Rath Yatra of Lord Raghunathji while Dussehra was celebrated with burning of effigies of Ravana, Meghnath and Kumbhkaran, elsewhere in the state.
Chief minister Virbhadra Singh consigned to flames 45-feet tall effigy of Ravan, Meghnath and Kumbhkaran at Jakoo in Shimla.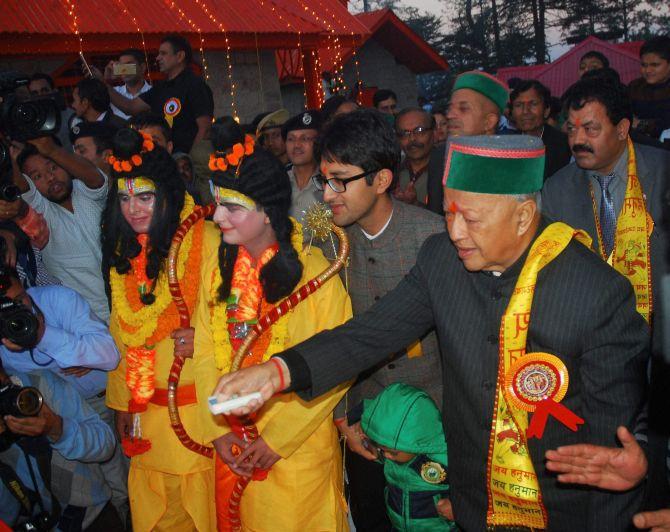 IMAGE:

Chief Minister Virbhadra Singh during the Dussehra celebrations at Jakhu temple in Shimla

. Photograph: PTI Photo
Kullu Dussehra is unique Kullu in the sense that there is no Ramlila and no effigy of Ravana is burnt and starts when Dussehra celebrations end in other part of the country.