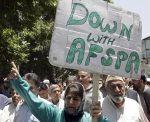 Phase-wise revocation of the controversial Armed Forces (Special Powers) Act and return of power projects to Jammu and Kashmir are the two most important wishes of Chief Minister Omar Abdullah.
Participating in the Mindmine Summit 2013 here, 43-year-old Omar was asked to list two most important wishes he would like to be fulfilled.
"If I had to select two points, it would be one, the phase-wise revocation of the AFSPA and two, the return of NHPC power projects to the state as recommended by the Rangarajan committee," he said.
Ever since taking over the reins of the state, his government has been pitching for phase-wise removal of AFSPA from the state starting from municipal limits of Srinagar and Jammu cities.
Omar said dealing with political problems of the state with inappropriate and unsuitable methods created a complex situation.
"The then prime minister of Jammu and Kashmir Sheikh Mohammad Abdullah was arrested and a saga of undemocratic nature crept in making things more difficult", he said, adding this also gravely alienated people.
When asked whether the states were ruling Delhi, he said there is set constitutional position to run the affairs of states and the Union and accommodating aspirations of the people of the states at the Union government-level is not anything amounting to 'ruling Delhi'.
"The situation in J&K is special -- the accession to the Indian Union was only on four areas -- communication, currency, defence and foreign affairs -- which have been gradually eroded over the years. So there will be some resistance. You have to deal with it. You have to win the heart of the people."
Even wearing a watch had become matter of life and death in the Valley because forces wanted people to set Indian Standard Time while separatists asked for setting Pakistan time on watches.
"If you live in an atmosphere of fear and when you leave the house in the morning you don't know if you are going to return -- for 25 years," he said and emphasised upon understanding the psyche of the people in the state.