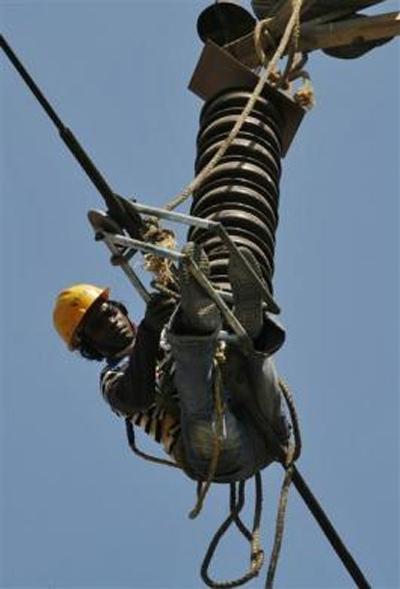 Reliance Infra-backed BSES discoms have sought Rs 450 crore "dues" from Delhi government and the Municipal Corporation of Delhi to overcome their immediate "financial difficulties" and avoid black outs in 70 per cent areas even as the AAP dispensation maintained it will not adopt a "lenient" approach in dealing with the firms.
In letter, the BSES discoms asked the government to pay Rs 262 crore of subsidy due to them, saying the amount would help them clear the outstandings to state-run power generator NTPC.

BSES Rajdhani Power Ltd and BSES Yamuna Power Ltd said if NTPC goes ahead with the threat of cut in power supply, then there will be almost 100 per cent load-shedding in their areas of operation except in hospitals and Delhi Metro from Monday evening.

BSES discoms supply power in 70 per cent areas.
The Delhi government has already made it clear that it will not pay the subsidy dues to BSES discoms and will adjust the amount with their outstanding to Delhi government-run
power generation and transmission companies.

BRPL and BYPL owe around Rs 4,000 crore to Delhi government-run power generation and transmission utilities.

Meanwhile, Delhi Electricity Regulatory Commission on Thursday deferred a hearing on suspension of licences of BSES discoms till Saturday after the two companies sought more time to present their case.
"The companies sought more time and we have fixed Saturday for hearing the case," DERC chairman P D Sudhakar said.

On Monday, Delhi government had recommended to the DERC to revoke the licenses of BSES discoms if they resort to long outages in areas of their operation citing fund crunch to arrange power.
Following the recommendation, the DERC had served notices on two BSES discoms to present their case on the issue. After DERC served the notices on BSES discoms, they approached the Appellate Tribunal for Electricity to restrain the regulator in taking any punitive action against them.

The tribunal on Wednesday asked DERC not to take a final decision on revoking licences of BSES discoms without its permission.
The NTPC had last week served notices of power supply suspension to BSES discoms and said electricity supplies will be snapped if they do not clear their dues by February 10.
BSES discoms had informed the government that they did not have money to buy power and the city may reel under long outages if funds are not provided to them.
Asked on finding a solution to the issue, a top official said government will not take a "lenient approach" towards BSES discoms.

In the letter to the government, BSES said payment of "subsidy dues" would avoid the imminent crisis of regulation of power by the NTPC till a long term solution was found.
"We, therefore, once again request the government for immediate release of the subsidy amount due to BSES discoms in the immediate interest of avoiding massive load shedding in several parts of the city and consequential impact on 33 lakh consumers," it said.

The letter said Delhi government owed Rs 166.35 crore to BRPL and Rs 95.79 crore to BYPL.
"If the government considers it desirable, it may make a direct payment to NTPC of Rs 95 crore due to BYPL while paying the balance amount to BSES to meet the immediate need," it said.
Warning of a cut in power supplies in the city, NTPC had said BSES discoms have a history of payment defaults and their electricity supply would be curtailed if they fail to pay their dues by Monday.
The BSES discoms sent a separate letter South Delhi MCD for payment of dues to the tune of Rs 118 crore. Another letter was sent to East Delhi MCD for payment of Rs 80 crore.

On Tuesday, Chief Minister Arvind Kejriwal had conveyed to Lt Governor Najeeb Jung that if the discoms express inability to supply power due to financial difficulties, then there may not be any option with power regulator DERC but to suspend or revoke their licences and take over the operation.
The Delhi government has already held preliminary discussions with a number of private power distribution companies which are operating in other states.