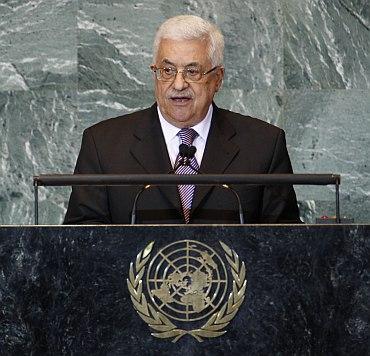 Palestinian Authority Chairman Mahmoud Abbas on Friday handed over a landmark request to Secretary General Ban Ki-moon seeking a full United Nations membership for a Palestinian state.
Abbas handed over the request to secure UN membership for the Palestinian state, an issue that has been opposed by the US and Israel who have called for direct negotiations with the Jewish state to arrive at a peace treaty for statehood.
On Thursday, President Barack Obama told Abbas that the US will veto the move in United Nations Security Council.
Notwithstanding United States' opposition to membership of Palestinian Authority, India on Friday said it will fully support such a move but feels it was still not certain whether the issue would go to the General Assembly.
Full membership depends on the nine approved votes in the Security Council as well as concurrence of the five permanent members.
India has been among the first non-Arab country to recognise the Palestinian state and India will support the Palestinian state fully, Indian officials have said.
Palestine currently has observer status at the UN. According to the provisions of the UN Charter, the Secretary-General is tasked with verifying any letter requesting UN membership, after which he sends it to the Security Council and the General Assembly.
The application is considered by the powerful Council, which decides whether or not to recommend admission to the 193-member Assembly, which has to adopt a resolution for the admission of any new member state.
Image: Palestine's President Mahmoud Abbas addresses the 66th United Nations General Assembly at the UN headquarters in New York
Photograph: Mike Segar/Reuters