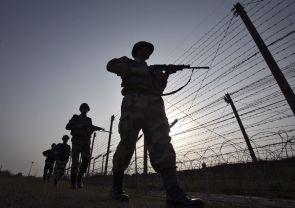 Pakistan Rangers violated ceasefire again by firing on outposts along the International Border in Jammu district, prompting Indian troops to retaliate.
Pakistani troops fired at Border Out Posts in Arnia forward area in R S Pura at 8.30 pm on Wednesday just hours after a Border Security Force trooper was killed in an earlier ceasefire violation by border guards on the other side.
"Pakistan Rangers after a brief lull resorted to firing on BoPs along IB in forward belt of Arnia in R S Pura tehsil of Jammu district around 8.30 pm on Wednesday," a BSF officer said.
Border Security Force troops of 192 Battalion took positions and retaliated back resulting in exchanges which were still going on in the area intermittently when the reports last came from the area, he said. "There was no loss of life or injuries to anyone in these exchanges," the officer said.
This is the fourth ceasefire violation by Pakistan this month. BSF authorities have asked all the border guards to be alert on their posts and forward BoPs.
A BSF trooper was killed and six, three of them security force personnel, were injured when Pakistan Rangers fired heavily at Indian forward positions along the International Border in Jammu district on Wednesday.
The Pakistani border guards fired at forward Pittal outpost in Arnia forward area in R S Pura without any provocation.
Constable Sanjay Dhar, belonging to 192 BSF Battalion, was killed and three BSF jawans and as many labourers were injured in the firing by Pakistani Rangers. The labourers were engaged in agriculture activity.