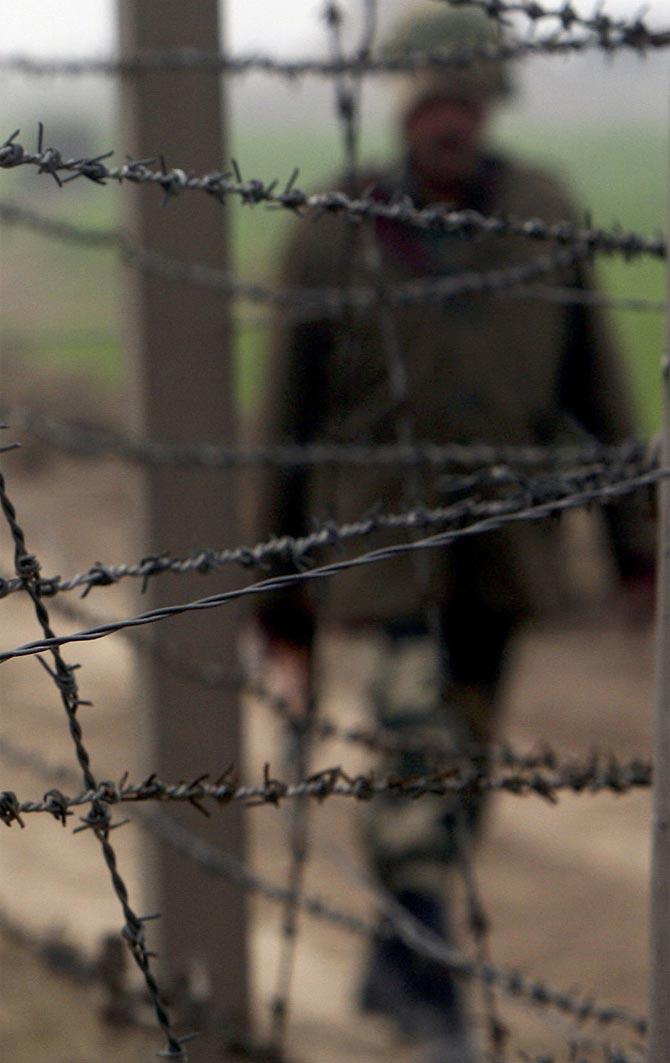 Two Border Security Force jawans were on Friday injured when Pakistani troops opened fire at 10 border out posts and civilian areas along the International Border in Jammu and Samba districts.
Violating the ceasefire five times in the past 24 hours, the Pakistani rangers fired on border out posts and forward civilian areas along IB in R S Pura, Pargwal, Samba and Jugnu Chak areas of Jammu and Samba districts, the police said.
They resorted to firing along IB in Kharkota, Kharkal, AMK, Mangral in R S Pura Subsector, Regal and Rajpora in Samba sector and Nikowal BoPs, they said.
In Nikowal BoP, two BSF constables Gangan Thakur and Hasda were injured and hospitalised, they said. BSF troops guarding the borderline took positions and retaliated strongly resulting in exchanges, which are still going on in some areas in R S Pura sub-sector.
The Pakistan army had on Thursday pounded civilian areas along the LoC in Najwal-Pargwal belt of Jammu district, leaving five persons injured, including three children.
In the backdrop of the increased ceasefire violations by Pakistan, Union Home Minister Sushil Kumar Shinde will visit forward areas along the IB on October 22 to review the security situation.
On October 16, Pakistani troops had violated the ceasefire by firing at Kamalkote forward area of Uri belt, Krishnagati and Bhimbhergali sub-sectors of Poonch district and Mangu Chak and Khatav border out posts along IB in Samba.
Pakistani troops had also violated the ceasefire twice on October 15 by firing on Hamirpur-BhimbherGali sub-sector along LoC and Balakote forward areas along LoC in Poonch district, killing an Army jawan.
On October 14, Pakistani troops had violated the ceasefire twice and resorted to firing along Poonch LoC and also Katav BoP along IB in Samba district, leaving a BSF jawan injured. Over 130 ceasefire violations have been reported in 2013, the highest in the past eight years.