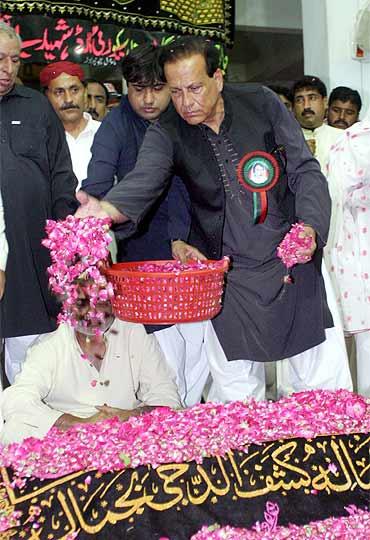 A stalwart and outspoken politician and a business tycoon, Pakistan's Punjab Governor Salmaan Taseer assassinated by one of his security guards, who was angered by the Governor's opposition to a controversial blasphemy law, in a gun attack at a market in Islamabad on Tuesday, donned many roles in his career that expanded over four decades.
Taseer had spoken out against the law and called for the pardon of Asia Bibi, a Christian woman sentenced to death last year after being convicted for insulting Prophet Mohammed.
In his hey days Taseer was an icon of youth politics in Pakistan and was know for his proximity with Zulfikar Ali Bhutto and his daughter Benazir. But among all of this, not many are aware of Taseer's Indian connection.
The Punjab governor has a son Aatish with noted Indian journalist Tavleen Singh. The two met during a book promotion trip to India in the late 1970s. Back then Taseer was already married to Aamna with who he has six children.
Today, Aatish is a freelance journalist in the United Kingdom and has recently written a book titled Stranger to History: A Son's Journey through Islamic Lands on his estranged relationship with his father.
Taseer's dynamic career graph

Taseer started his political career in his student days, as a close and active member of Zulifkar Ali Bhutto's Pakistan Peoples Party. He spearheaded a movement for Zulfikar Bhutto's freedom and against his arrest and death sentence and also went on to write a political biography on him.
Taseer was elected member of Punjab Provincial Assembly from Lahore in the 1988 polls. After the dismissal of the PPP government in 1990, Taseer lost the election for the seat of National Assembly in 1990 and 1993. In 1997 elections, he tried his luck by changing the constituency, but remained unsuccessful. Following successive failures, Taseer left electoral politics, and successfully focused on strengthening his business.
He returned to the political scene in 2007 after he was appointed the interim Federal Minister for Industries, Production and Special Initiatives.  
On 15 May 2008, Taseer was nominated for the post of Governor of Punjab by the PPP-led government.
His political career was free from controversy apart from a recent one. In December 2010 as Punjab governor, he departed the country without handing over charge to the speaker and this meant that the province was without a constitutional head. Violating the constitution led to calls of his resignation.
Taseer, a business tycoon

When Taseer's political career started looking downhill, he decided to make a foray into business. In 1994 he established the First Capital Securities Corporation, a full service brokerage house, and a year later founded the Worldcall group with a payphone network in 1995.
He also owned an English news channel in Pakistan Business Plus and gave the nation its first kids channel Wikkid Plus. He was also the publisher of the English language Daily Times.
Taseer's tweets and more

A tech-savvy politician Taseer was hooked on the micro-blogging site Twitter and was frequent user of Facebook.
In fact, hours before he was shot on Tuesday he tweeted showing is support to the PPP-led government that is currently facing crisis in Pakistan. "Prezdnt Zardaris total support of PM has once again silenced rumours of split in PPP top leadership. Govt is here till 2013," he wrote on Tuesday.
"The coalition may be shaken but the govt is strong. There is no possible alternative. More important who is the other candidate? Any name," he tweeted on Sunday.
Taseer was outspoken about his take on Kashmir. In a recent tweet he wrote, "We pray 4 the heroic brave ppl of Kashmir. Inshallah 2011 bring them azadi from the brutal occupation they have faced 4 so many long years."
Apart from politics, Taseer took keen interest in squash and cricket and spent his free time reading or listening to desi or jazz music.
Perfume
by Patrick Suskin and
The Prince
by Niccolo Machiavelli were some of his favourite books. Biographies of Napoleon, Richard Branson and Hugh Hefner got him hooked on, according to his Facebook profile.
Image: Salmaan Taseer lays flowers at the grave of slain former prime minister Benazir Bhutto | Photograph: Nadeem Soomro/Reuters