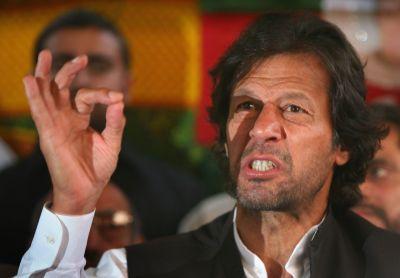 Pakistan's cricketer-turned-politician Imran Khan on Thursday urged all opposition parties to boycott the January general election but admitted that a final decision in this regard would depend on the stance adopted by former Premier Benazir Bhutto.
Describing the parliamentary polls called by President Pervez Musharraf's military regime on January 8 as "fraudulent", he said participation in the election would only strengthen the General's position.
Khan, released from prison yesterday after being arrested under an anti-terror law, said there is "no point in participating in an election where apart from the pre-poll and polling day rigging  the opposition will have its hands tied behind its back and all the chips will be with Musharraf and his cronies".
The All Parties Democratic Movement -- a grouping comprising Khan's Tehreek-e-Insaf, Muttahida Majlis-e-Amal, Awami National Party and other smaller opposition parties -- will decide whether to boycott the polls at a meeting on November 24.
But Khan pointed out that much would depend on Bhutto's Pakistan People's Party, which on Thursday directed its candidates to file their nominations but said the papers could be withdrawn later if all parties decided on a boycott.
"Well, it (Bhutto's stand) will make a difference. If she decides to fight (the election), then of course we have to discuss the implications," Khan told Dawn News channel. He said the APDM is trying to convince Bhutto to boycott the polls.
Imran Khan said PML-N leader and exiled former premier Nawaz Sharif, Jamaat-e-Islami chief Qazi Hussain Ahmed, Pakhtoonkhwa Milli Awami Party leader Mehmood Khan Achakzai and ANP leaders were in agreement with him that polls under the emergency should be boycotted.
He was also critical of Bhutto's stand on the polls, contrasting it with her criticism of the military regime.
"Look at Benazir's statements. She says the caretaker government is basically stooges of Musharraf, she says under emergency, you can't fight elections, the Supreme Court should be restored, the way the media is being hounded.
"To fight an election in these circumstances is basically a contradiction in terms. So it begs the question why fight the election?" he asked.
"We certainly think that if we fight the elections, we would have abandoned the (deposed) Chief Justice Iftikhar (Muhammad Chaudhry) and the brave stand the Supreme Court judges had taken," said Khan who was arrested last week after he emerged from hiding to join a student protest in Lahore.
"There is clearly a consensus in the APDM, (but) we don't know which way the PPP will go," he added.
Rejecting the government's claim that it was paving the way for free and fair polls through such steps as the release of arrested political and rights activists, Khan said: "I have never heard more lies, propaganda, shamelessness.
"And the way they have lied  how can they say they have released political workers and so that would justify them holding the election?"
Photograph: John Moore/Getty Images