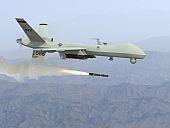 Pakistan unofficially allows the Central Intelligence Agency to hit terrorist targets inside its territory using unmanned drones, but condemns it officially, a former top American intelligence official has said.
"The current open secret covert-action drone programme in Pakistan, which does nothing except enable the Pakistanis to allow us to do it, unofficially, and then officially to attack us for it and thereby make us extremely unpopular in Pakistan and interferes with all sorts of other objectives with Pakistan, is anomalous," Admiral (rtd) Dennis Blair, former Director of National Intelligence, told reporters during a conference call organised by the Council on Foreign Relations.
Blair said one can't write general procedures, applicable in other countries, for Pakistan, but the American use of drones there has to be consistent with international law and the laws of war.

"So Pakistan certainly doesn't get a pass for all of the laws and the legal use of force, which pledged to both in international treaties and the way Americans think about the way they want to use our armed forces. So I think that we've got to do better than a classified playbook," he said.


Blair said the continuation of this highly successful drone programmes might not be able to diminish the terrorist threat coming from the North Western areas of the country.
"What we should do in Pakistan, my concern with our use of drone in Pakistan, which can be denied by Pakistan -- in fact, the legislature can pass laws that say that we can't do
it, and meanwhile their government actually gives us permission to use their airspace, Pakistan could shut us down anytime (if they want ?), so they have what they think is the best of all worlds; they get attacks against militants who are a threat to them as well as to us in Afghanistan, and they get to blame us for it," Blair said.
"So that is not over the long term how we are going to control the threat to Pakistan, Afghanistan and the United States coming from the northwest areas of Pakistan. So we need to constantly be offering to Pakistan to make a better deal in which we cooperate in establishing law and order in those tribal areas, and we should offer to let go of the unilateral drone strikes which we conduct there in return for a combined campaign against those areas and then imposition of regular Pakistani law and order the way it was done in the Swat Valley, the way it was done in South Waziristan," he said.
He said the US should be constantly striving for a long-term strategy which will hold down the threat from those areas and will minimize all the downsides of what they doing now.
"I'm out of government now, so I don't know the extent that we are doing that, but based on the public statements of the government, there's way too much of this, oh, drones are the best game in town; we're really killing them. And it's just a very short-term, myopic view of what is going to be a long-term problem," he noted.
Micah Zenko, Douglas Dillon Fellow, Council on Foreign Relations, said that Pakistan accounts for the 85 per cent of the targeted killings by the US.