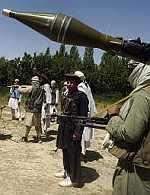 Pakistani authorities agreed during talks with Afghan peace negotiators toc release several Afghan Taliban prisoners to give a push to Kabul's troubled reconciliation process, according to a media report on Wednesday.
The development came on the second day of Afghan High Peace Council chief Salahuddin Rabbani's three-day visit to Islamabad to revive the peace process that has been in limbo for over a year, the Dawn quoted its sources as saying. However, Mullah Baradar, the second highest Afghan Taliban commander, is not among those being freed.
The report described the move as an "unprecedented gesture of support" for the Afghan reconciliation process. It further said it was unclear whether the prisoners, numbering close to 10, had already been set free or would be released at the conclusion of Rabbani's visit.
Mullah Baradar was captured by Pakistani security forces in Karachi in 2010.
Several reports have suggested that he was arrested as he had initiated peace talks without informing Pakistan's powerful military and intelligence set-up.
Talks between Rabbani's team and Pakistani officials would continue on Wednesday and the two sides are expected to come up with a joint statement on progress made so far.
An unnamed Pakistani official said, "Significant progress has already been made." The release of Afghan Taliban leaders detained in Pakistan has been a longstanding Afghan demand for giving impetus to the reconciliation process. The move is expected to create the right environment for reconciliation.
Pakistani leaders, including President Asif Ali Zardari and Foreign Minister Hina Rabbani Khar, have repeatedly said that Islamabad wants peace and stability in Afghanistan and would back any "Afghan-led and Afghan-owned" peace process.
Islamabad had been holding back its cards in view of a "lack of clarity about the peace process with the Taliban both in Kabul and Washington", the Dawn reported. However, with the US drawdown deadline approaching fast and various unfavourable scenarios for Pakistan being projected, the government apparently changed its tack and decided to provide proactive support the peace process, it added.
Maleeha Lodhi, Pakistan's former envoy to the US and Britain, last week told the senate's standing committee on defence that the absence of a political settlement in Afghanistan "could lead to disastrous consequences for the region, especially for Pakistan".
During a meeting with Rabbani's delegation on Tuesday, President Zardari reiterated that Pakistan would continue to extend every possible support to Afghanistan in its journey towards peace and socio-economic development.
He said a peaceful, stable and economically developed Afghanistan is vital for Pakistan's own stability and prosperity. Rabbani's delegation also met army chief Gen Ashfaq Pervez Kayani.