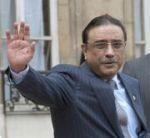 President Asif Ali Zardari on Thursday said Pakistan is making "unprecedented efforts" to normalise ties with India even as he called on the world community to address challenges like the situation in Palestine and the Kashmir issue.
"Our people want peace within the country and peace with our neighbours. Our government is making unprecedented efforts to normalise relations with India," Zardari said in his address to the Developing Eight Summit hosted by Pakistan.
At the same time, he said the international community would have to address "daunting" challenges facing the world.
"The people of Kashmir continue to suffer unjust occupation. For decades they have been awaiting the promised self-determination," he contended.
"The people of Palestine continue to suffer the Israeli aggression. We condemn the recent attacks in Gaza which have led to the loss of innocent lives," he said.
"We must address these issues."
Zardari, who assumed the leadership of the D-8 grouping during the meeting, spoke on regional issues, including the war in Afghanistan and tensions over Iran's nuclear programme.
"We support Afghanistan's own roadmap for peace and reconciliation. This is the vision of a democratic people that seek peace and prosperity," he said.
"With Iran Pakistan's destiny is inter-linked…We will continue to support peaceful ways to help resolve disagreements between Iran and other parties," he said, in an apparent reference to Iran's nuclear programme.
Zardari acknowledged that international terrorism is one of the "most serious threats facing Pakistan".
Terrorists, from within Pakistan and abroad, were seeking to impose their agenda on the country, he said.
"We cannot and will not allow Islam to be hijacked. We will fight for our values. We will fight for the spirit of our great religion that our Holy Prophet gave to us. We are fighting the terrorists' dark and destructive vision every day," he said.