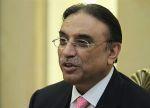 President Asif Ali Zardari on Tuesday confirmed Pakistan's ratification of a landmark visa agreement signed with India in September that will benefit several categories of travellers, including businessmen and senior citizens.
Pakistan's cabinet had ratified the visa agreement on October 31.
Presidential spokesman Farhatullah Babar said the objective of the agreement is to facilitate travellers of the two countries.
Besides diplomatic, non-diplomatic and official visas, visitor visas will be issued to persons to meet relatives or friends or for any other legitimate purpose.
Visitor visas will be valid for a maximum of five specified places and a period of six months.
The visas will specify that the duration of stay at a time shall not exceed three months.
A visitor visa may be issued for a longer period of up to two years with multiple entries to senior citizens above 65 years, nationals of one country married to a citizen of the other country and children below 12 years of age accompanying parents.
According to the agreement, transit visas valid for up to two entries in the city or port of entry will be issued to persons traveling by air or sea and proceeding to another country through Pakistan or India.
The agreement also states that group tourist visas may be issued to groups of not less than 10 members and not more than 50 members organised by approved tour operators.
Such visas will be valid for 30 days and will be non-extendable.
The group tourist visa facility will also be available to students of educational institutions of both countries.
However, this will be a tourist visa only and not for seeking admission in educational institutions of either country.