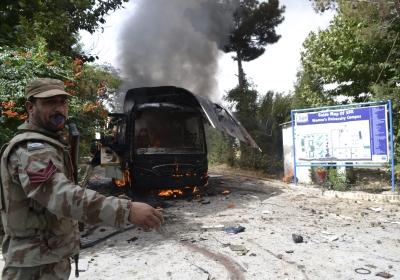 At least 23 people, including 14 women students, were killed on Saturday when Lashkar-e-Jhangvi militants blew up a bus and then besieged a hospital treating survivors in the southwestern Pakistani city of Quetta.
Fourteen students of Sardar Bahadur Khan Women's University, a deputy commissioner and four Frontier Corps personnel were among the dead.
Four militants were also killed by security forces, Interior Minister Chaudhry Nisar Ali Khan told reporters in the federal capital today evening.
Over 35 people were injured in both attacks and 35 hostages were freed by security forces at the hospital, Khan said.
One suspected militant was also captured at the hospital, he said.
The banned Lashkar-e-Jhangvi claimed responsibility for both attacks, BBC reported.
The LeJ spokesman said the attacks were carried out in retaliation for a raid by security forces against the group, in which a woman and children were killed.
In the first attack, a powerful blast ripped through a stationary bus within the campus of the women's university at Brewery Road in Quetta today afternoon.
Students and faculty members were waiting to go home when a bomb planted in the bus was triggered by remote control. Several girls sustained severe burn injuries as the explosion triggered a fire.
Footage on television showed flames and black smoke emerging from the bus, which was reduced to a blackened heap of metal.
Nearly two dozen injured people, most of them women students, were taken to the nearby Bolan Medical Complex, which was stormed by a group of 12 to 14 heavily armed militants about an hour after the attack on the bus.
A large crowd, including security personnel and journalists, was standing outside the hospital when a blast went off inside, even as casualties were still being brought in.
Several armed militants inside the hospital then began firing indiscriminately.
Deputy Commissioner Abdul Mansoor Kakar was hit by several bullets and later succumbed to his injuries.
Four Frontier Corps personnel and as many militants were also killed, Interior Minister Khan said.
People ran helter-skelter and men and women could be seen cowering behind vehicles in the parking lot as security forces surrounded the hospital and engaged the militants.
Some militants took position on the roof of the hospital and fired at anyone who tried to enter the building.
Dozens of policemen and paramilitary personnel participated in the operation to clear the hospital as helicopters were used for aerial surveillance.
TV channels reported that one militant blew himself up on the second floor of the hospital when he was surrounded by the security forces but this could not be independently confirmed.
The attacks on the women's university and the hospital came hours after militants attacked and destroyed a historic 121-year-old building in Ziarat, nearly 120 km from Quetta, which was used by Pakistan's founder Muhammad Ali Jinnah in the last days of his life.
A policeman was killed in that attack, which was claimed by the Balochistan Liberation Army.
Interior Minister Khan said there were no links between the assault on the Residency and the two subsequent attacks.
Image: A paramilitary soldier stands near a burning bus at the site of a bomb blast in Quetta | Photograph: Naseer Ahmed/Reuters