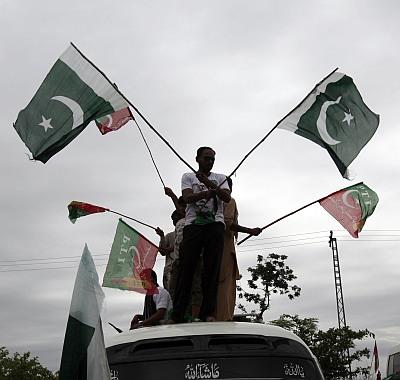 Pakistan's opposition leader Imran Khan on Sunday said he along with thousands of his supporters is ready for a final match against Nawaz Sharif who was involved in an "electoral match fixing", after cleric Tahir-ul Qadri issued a 48-hour ultimatum to the embattled Prime Minister to resign.

Khan, who led Pakistan to the World Cup victory in 1992, warned the PML-N government that his supporters could enter the high-security Red Zone here if Sharif, who has been in power for over an year, refuses to quit.

Pakistan Tehreek-e-Insaf (PTI) chairman said that a final match would be played on Sunday which will be decisive day in the history of Pakistan.

"Ppl know NS (Sharif) along with ROs (Returning Officers) & caretakers were all involved in 2013 electoral match fixing. They will not accept it," the cricketer-turned-politician tweeted.

In the 2013 general elections, Sharif had won by a landslide, taking 190 out of 342 seats. Khan's PTI got 34 seats, the third largest bloc in the legislature. But he claimed his party should have had many more seats.

"Nawaz Sharif should resign as ppl have given their verdict on fraudulent elections by coming out in huge nos 4 PTI Tsunami," he said.

"With fraudulent mandate, NS has expanded family business, increased debt burden on nation & lived like an oil sheikh on taxpayer money," he said in the tweet.

"We are not a party which has looted the country, come forward to accommodate the people who have travelled from far flung areas," Khan said.

Both Khan and Pakistan Awami Tehreek chief Qadri started separate rallies from Lahore on Thursday and reached in the national capital after more than 35 hours. They are camping at different venues.

Khan warned that unless their demands are not met within a certain time period, his 'tsunami' would cross into the Red Zone and protest in front of Parliament.

The heavily-guarded "Red Zone" is home to Parliament, the President and Prime Minister's residences and foreign embassies.

"Don't blame me if I failed to control these people (from entering high security area). I can control them until Sunday night," he said past midnight.

On the other hand, Qadri presented a list of 14 demands in which he demanded that the Sharif government resign and the (provincial) assemblies are dissolved "within 48 hours".

Khan is protesting against alleged rigging of last year polls while Qadri had announced to bring a revolution in the country.

The political instability comes at a time when Pakistan is waging a war against militants -- particularly in the restive tribal regions along its border with Afghanistan.

Pakistan Supreme Court had on Friday issued an order against any unconstitutional step to remove the civilian government as protests threatened to remove government which sparked fears of a possible military intervention in the coup-prone
country.
The Army, which has already been handed over the security of capital for three months, has a history of capturing power from democratically elected governments.
In its 67-year history, Pakistan has witnessed three coups, including one against Sharif in 1999 by the then army chief General Parvez Musharraf.
Khan and Qadri's demands invited strong criticism from PML-N government, with Information minister Pervaiz Rashid saying "They (Khan and Qadri) are giving deadline to democracy in the country and not the government."
He said both Khan and Qadri were allowed to go ahead with protests march after clear understanding to the government that they will respect the Red Zone.
Altaf Hussan, London-based chief of Mutahida Qaumi Movement, urged both leaders to give up their extreme demand and withdraw deadlines.
He also asked the government to start talks for finding a solution within the constitution of the country.
There are also reports that government was planning to shift the venue of Khan's protest which is a few hundreds meter away from the Red Zone.
Khan had joined his protesters on Kashmir Highway last evening and remained with them till this morning. He also briefly slept in a makeshift bed with the workers.
His rally later turned into a musical night as famous singers performed live, swaying the crowd as well as the leaders.
Separately, Qadri turned up at his rally venue at the midnight to inject new force into thousands of exhausted men and women.
Qadri also offered a 10-point social programme of free education, health, jobs, housing etc after the formation of national government.
The government has so far followed the policy of "let the marchers and their leaders exhaust themselves".
Sharif does not have immediate fears from them as both Khan and Qadri failed to pull expected number of people. There were continually lashed by the monsoon rains for last two day.
The backdoor consultations are continuing and certain political actors like Jammat-i-Islami chief Sirajul Haq are working feverously to find a middle way.
In many TV interviews, Haq urged the government to show openness in dealing with the protesters.
Dunya television reported that Sharif has called a meeting of political parties on Sunday to discuss ways to deal with the demands of both Khan and Qadri.
It is believed that resignation option is already off the table but the political leaders will offer concessions like reforming the electoral and political system to make it more representative.