Stepping up its attack on the government over Income Tax Amendment Bill, a united opposition on Thursday petitioned President Pranab Mukherjee against it, alleging the legislation was hurriedly passed in the Lok Sabha bypassing parliamentary rules and procedures.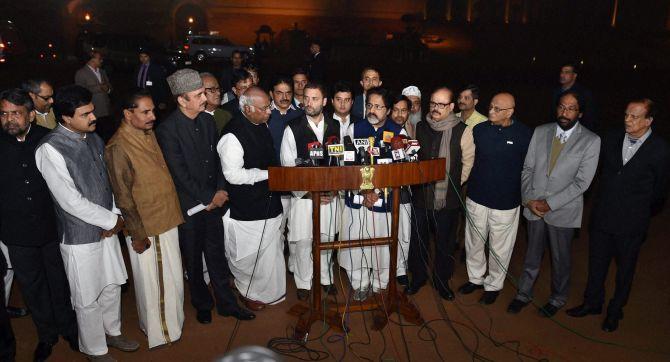 As many as 16 opposition parties, including the Congress, arch rivals Trinamool Congress and the Left, the Samajwadi Party and Bahujan Samaj Party, besides the Dravida Munnetra Kazhagam, the Jharkhand Mukti Morcha, the Nationalist Congress Party and others met the President at Rashtrapati Bhawan and handed over a memorandum, which alleged a "brute and authoritarian" government was "stifling" the democratic process.
The Janata Dal-United, whose president and Bihar Chief Minister Nitish Kumar has supported demonetisation, however, was not part of the delegation.
"We appeal to you as the custodian and protector of the Constitution to intervene at this juncture as the democratic rights are being trampled upon by a brute and authoritarian government that is hell bent upon stifling the democratic and legislative process of our Parliament," the memorandum said.
It said the mandatory provisions of Constitution and Rules of Procedure were "totally violated" in passing the Bill.
The memorandum said though Lok Sabha members raised these issues in the House, their democratic rights were denied on the plea that there was no time to wait for the President's assent as the bill was very important.
"This is not permissible in law and amounts to undermining the authority of the President of India," the memorandum said.
Congress vice president Rahul Gandhi, who was part of the delegation, alleged that Parliamentary procedure was not followed in the passing of the legislation and voice of people was being "suppressed blatantly" now in Parliament too.
"We met the President because of the Bill that was passed without allowing any discussion. There is a sense in the country that the voice of the people is being suppressed and crushed.
"This was being done across the country and now it is being done in Parliament blatantly. This is not the way to run parliamentary democracy. That is why we have come to meet the President here," he said.
IMAGE: Shahbaz Khan/PTI Photo