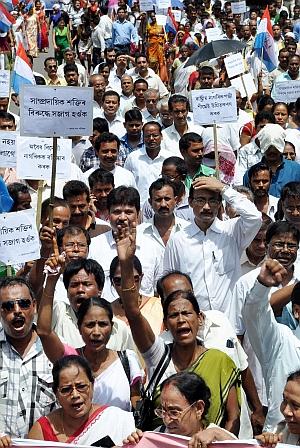 The opposition Asom Gana Parishad on Friday organised a massive rally of its supporters and people in Guwahati to register its protest against the 'failure' of the Assam government to stop occurrence of violence in Bodoland Territorial Council and adjoining areas as well as demanding deportation of illegal Bangladeshi migrants from the state.
The AGP rally which disrupted traffic in the heart of Guwahati for few hours, was led by its senior leaders including the party president and former chief minister Prafulla Kumar Mahanta.
The regional party also demanded implementation of Assam Accord of 1985 and updating the National Register of Citizens in the state for solving the burning problem of illegal migrants threatening to outnumber the indigenous population in the state.
The problem of illegal migrants from Bangladesh has come to the fore in the wake of the clashes between Bodo tribe and migrant Muslims in BTC and adjoining areas in the state.
The All Assam Students Union also took out a similar rally in Sivasagar in Upper Assam against violence and unabated illegal migration from Bangladesh.
Several citizens' organisations, journalists unions and other like-minded organisations brought out protest rally at Tezpur in Sonitpur district of Assam on the same issues on Fridsa.
Meanwhile, Bodo People's Front which is power in the BTC has made it clear that citizenship of violence-displaced people must be established in relief camps before they are rehabilitated so that no illegal migrants from Bangladesh are get settled in the BTC area on the sly.
Assam Chief Minister Tarun Gogoi has already assured that his government will rehabilitate only genuine India citizens who were displaced by violence. He also informed that Assam government would complete the process of updating the NRC in the state within three years and the first phase of the work would cover 42 legislative assembly constituencies.
Picture: Activists of the Asom Gana Parishad at the rally in Guwahati