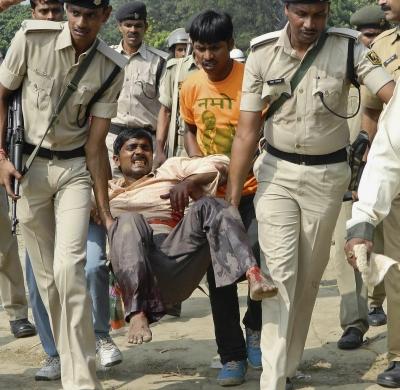 Two days after serial blasts at Gandhi Maidan during the Bharatiya Janata's Hunkar rally, Three bombs was on Tuesday recovered from there and defused.
"A suspicious object was recovered which was found to be a bomb during scanning," Superintendent of Police (City) Jayant Kant told mediapersons.
The bombs have been defused and an operation to sanitise the Gandhi Maidan was on, he said. On the intensity of the explosive, Kant said that nothing could be said about its intensity as yet.
The recovery of the bombs assumes significance as the Comunist Party of India-Liberation is planning to organise its 'Khabardar Rally' at the Gandhi Maidan on Wednesday.
On whether the district administration would allow the CPI-M-L to go on with its scheduled rally in view of the detection of a bomb on Tuesday, the SP said that it was too early to decide on the matter.
The sprawling maidan had hosted the BJP's Hunkar Rally two days ago which was rocked by serial blasts claiming six lives and injuring 82 others.
BJP's prime ministerial candidate Narendra Modi was the main speaker at the rally.