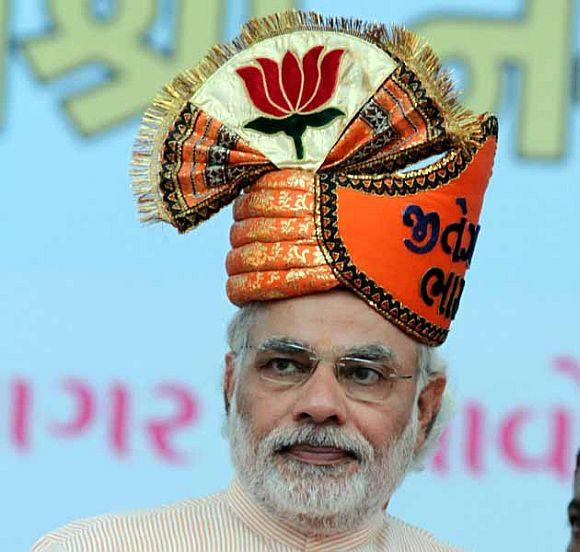 Eyeing for return to power in Delhi after a gap of 15 years, the Bharatiya Janata Party will kick off its election campaign at a rally in New Delhi on Tuesday, coinciding with the birthday of its prime ministerial candidate Narendra Modi.
The Delhi BJP said the rally at the Talkatora Stadium will be addressed by party president Rajnath Singh besides other senior leaders including party's Delhi election in-charge and former president Nitin Gadkari.
Singh is expected to present a "development agenda" for Delhi at the rally, which will be participated by all senior Delhi BJP leaders, including Vijay Goel, Vijay Kumar Malhotra, Vijendra Gupta and Harsh Vardhan.
A havan (worship) will be performed at the Delhi BJP office to pray for the long life of Modi and victory of the party in assembly polls slated for November.
"There is a groundswell of support in favour of the BJP, which is clearly on the path of victory both in the Delhi assembly and the Lok Sabha polls," Delhi BJP chief Vijay Goel said. He said anointment of Modi as party's prime ministerial candidate has brought enthusiasm among the BJP rank and file. "The anointment of Narendra Modi has further galvanised the party cadres in Delhi who are already charged up to end the 15-year misrule of Congress," said Goel.
"We are performing a 'havan' on Modi's birthday to pray for his long life as well as for BJP's victory in the coming assembly and Lok Sabha polls," he said.
The Delhi BJP has also organised a rally on September 29 at Rohini, which will be addressed by Modi, besides other leaders. "It will be a historic rally and will be attended by at least 4-5 lakh people. We are trying to make it the biggest and most impressive rally of Modi," Goel claimed.
The Delhi BJP has already formed different committees for the success of the rally. "All these committees are working hard on the ground to make the rally a grand success. This rally will also set the right tone for BJP ahead of the Delhi assembly elections," Goel said.
He said BJP's election campaign will focus on issues like inflation, hike in power and water tariff by the Delhi government, lack of development in rural areas and unauthorised colonies and alleged corruption by Sheila Dikshit dispensation. "We will unveil a range of publicity materials which will be used by the party cadres to nail the Congress' false claim about various issues. We will also present BJP's agenda for Delhi," he said.
He said BJP cadres will visit every household under the slogan 'Ghar, Ghar, Bhajapa' and "expose" misdeeds of the Congress government in the last 15 years.