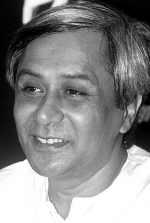 In a bid to suppress dissidence, Biju Janata Dal supremo and Odisha Chief Minister Naveen Patnaik on Wednesday suspended Jagneswar from the regional outfit on charge of anti-party activities.
The suspension of Jagneswar, who was the general secretary of the BJD, came three days after he announced formation of Odisha Jana Morcha within the party on behalf of suspended party MP Pyari Mohan Mohapatra to "reform" the organisation.
While Mohapatra and BJD MLA, Pravat Biswal, were suspended from the party on June 1 after a failed coup bid on May 29 against Patnaik government, Jagneswar faced the action after announcing formation of OJM on Sunday.
Both Mohapatra and Jagneswar had made it clear that the OJM was not a separate political party, but a forum within the BJD to work for internal democracy and rights of 27 lakh party workers in the state.

Reacting to the formation of OJM within the BJD, Patnaik had termed the forum as a "B" team of the Congress and said the Morcha would have no impact on the state politics.
Jagneswar, however, reacted sharply dubbing Patnaik's statement as "irresponsible." "I do not know what exactly Patnaik said. But if he (Patnaik) has termed the OJM as "B" team of Congress, it was an irresponsible statement," Jagneswar had said.
Hitting back, BJD general secretary Narendra Swain, in a statement on Tuesday justified Patnaik's statement and criticised Jagneswar. "The person (Jagneswar) who terms the party president's statement as irresponsible, is himself an irresponsible man," Swain said.
Soon after being suspended, Jagneswar said he would like to be suspended from BJD by raising voice of lakhs of party workers. "I have not indulged in any anti-party activities. If raising a voice in a democratic party is anti-party activity, then I accept it," he told reporters.
Jagneswar also said he was yet to receive any communication from the party president.

Image:  Biju Janata Dal supremo and Odisha Chief Minister Naveen Patnaik