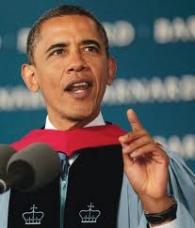 United States President Barack Obama on Thursday nominated Indian American Manish S Shah to serve on the United States District Courts judgeship for the Northern District of Illinois.
If confirmed by the Senate, Shah will become the first Article 3 judge in Illinois.
President Obama also nominated seven more to serve on the United States District Courts --Judge Cynthia Ann Bashing, Stanley Allen Bastian, Diane J. Humetawa, Justice Jon David Levy, Judge Steven Paul Logan, Judge Douglas L. Rayes, and John Joseph Tuchi for District Court judgeships.
"We are proud of Manish Shah's nomination by President Obama. This is another proud moment for us here at NASABA. He is a talented lawyer who has had an impressive career," Nadeem A. Bezar, Esquire, and President of the North American South Asian Bar Association told rediff.com.
Shah, 40, has been an assistant United States attorney in the Northern District of Illinois since 2001, and has prosecuted violent crime, international drug trafficking, complex fraud and public corruption.
He currently serves as chief of the Criminal Division, having previously served as chief of Criminal Appeals from 2011 to 2012. Shah was also deputy chief of the Financial Crimes and Special Prosecutions Section from 2008 to 2011 and deputy chief of the General Crimes Section from 2007 to 2008.
Prior to joining the United States Attorney's Office, Shah clerked for Judge James B Zagel of the United States District Court for the Northern District of Illinois from 1999 to 2001 and worked as an associate at Heller Ehrman White & McAuliffe in San Francisco from 1998 to 1999.
Born in New York, Shah received his J D with honours in 1998 from the University of Chicago Law School and his B A with honours and distinction in 1994 from Stanford University.
Bezar said, "We are proud of the recent wave of judicial appointments around the country."
Shah is the second current South Asian nominee by President Obama after Vince Chhabria was nominated for the Northern District of California.