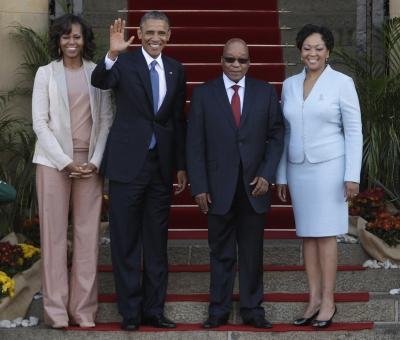 Anti-apartheid icon Nelson Mandela's condition remains "critical but stable", South African President Jacob Zuma said on Saturday hoping he will be out of the hospital soon.

"These are very excellent doctors who are dealing with him," Zuma said in a joint press conference with United States President Barack Obama. "We hope that very soon he will be out of hospital," he added. Zuma called Mandela the "founding president of our democracy who is much loved by our people and the world".
Obama, who is in South Africa on an official visit, met with Mandela's relatives privately, but does not intend to see the man he has called a "personal hero."
Mandela, who turns 95 on July 18, has been admitted to a hospital in Petoria on June 8 with a recurring lung infection. Obama decided not to visit his hero in hospital to preserve the "peace and comfort" of the anti-apartheid legend. "The triumph of Nelson Mandela and this nation speaks to something very deep in the human spirit," Obama said after talks with Zuma.
Obama had said on Saturday he did not need a photo-op with Mandela, whom he met briefly in 2005.
Well-wishers are continuing to gather outside the hospital where Mandela, regarded the founding father of South Africa's multiracial democracy, was admitted 21 days ago. They have been singing and saying prayers outside the hospital and at Soweto former home of Mandela, who is revered across the globe as a symbol of resistance against injustice.
Mandela had a long history of lung problems, dating back to the time when he was a political prisoner on Robben Island during apartheid. While in jail he contracted tuberculosis.
Mandela is revered for leading the fight against white minority rule in the African country and then preaching reconciliation despite being imprisoned for 27 years.

Image: US President Barack Obama waves next to First Lady Michelle Obama, South Africa's President Jacob Zuma and his wife, First Lady Thobeka Madiba-Zuma, at the Union Building in Pretoria
Photograph: Gary Cameron/Reuters