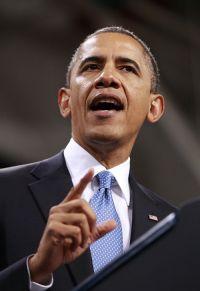 United States President Barack Obama will visit Asia in April next year, to push closer ties, but India is unlikely to be part of his stopovers given that the country could very well be in the middle of a general election.
Obama had to cancel his trip to Asia in October because of the government shutdown, and he would now visit the region next April, a top presidential aide announced Wednesday, without giving any details of it.
"Although we were all disappointed that the government shutdown compelled the President to cancel his trip to Asia in October, I'm pleased to announce today that President Obama will return to Asia this coming April to continue strengthening our ties across the region," the National Security Adviser Susan Rice said in a major foreign policy speech on Asia at the prestigious Georgetown University.
Ahead of Obama's Asia trip, top American leadership have been making a series of visits to the countries in the region and the momentum is expected to continue in the months ahead.
Rice, however, did not divulge any other details of the proposed trip including the countries that the US President might visit.
"Rebalancing toward the Asia Pacific remains a cornerstone of the Obama Administration's foreign policy. No matter how many hotspots emerge elsewhere, we will continue to deepen our enduring commitment to this critical region.
"Our friends in Asia deserve and will continue to get our highest level attention. Secretary of State John Kerry has traveled to the region several times and will return again in just a few weeks," Rice said.
"Secretary of Commerce Pritzker and US Trade Representative (Mike) Froman led important US delegations there last month. Vice President Biden will visit China, Japan and Korea in early December," she said in her address.
Rice said America's purpose is to establish a more stable security environment in Asia, an open and transparent economic environment, and a liberal political environment that respects the universal rights and freedoms of all.
"Achieving that future will necessarily be the sustained work of successive administrations. In the near term, President Obama will continue to lay the critical foundations for lasting progress in four key areas: enhancing security, expanding prosperity, fostering democratic values, and advancing human dignity," she said.
Obama had travelled to India in November 2010 and so far has spent his largest number of days in any country outside the US. However, given that India could be in the middle of an election cycle, Obama is unlikely to visit India during his April trip.