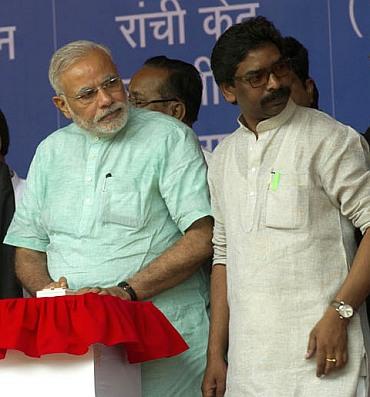 Days after Haryana Chief Minister Bhupinder Singh Hooda was booed by the BJP activists during a rally attended by Prime Minister Narendra Modi, Jharkhand Chief Minister Hemant Soren too faced a similar situation when hundreds of BJP supporters jeered at him and shouted anti-government slogans on Thursday.
The Jharkhand CM had to face an embarrassing situation while he was delivering a speech welcoming Prime Minister Narendra Modi in the tribal state.

Later, Modi asked the people of Jharkhand, which goes to polls this year, to elect a government with clear majority, saying he has been able to take quick decisions one after another because BJP enjoys a majority.
Inaugurating a clutch of projects, Modi said that Jharkhand has the potential to become developed many times more than Gujarat but had not lived up to expectations because of fractured verdicts people gave in assembly elections.
"We (NDA) are taking decisions so quickly one after another because you have chosen a government with a clear majority. I would not have been able to do so without a majority," Modi said, adding that compulsions of coalition politics would have hobbled him.

"The age of Jharkhand is now 13-14 years. It is a crucial time in everyone's life... I would urge you elect a strong government with full majority in elections so that Jharkhand can stand proudly in the country," he said.

His government, Modi said, believed in bringing governance to the "palms of people" by using information technology. The clearance of Digital India project by the Cabinet yesterday is a step in that direction, he said.

"Government should not be in Delhi or Ranchi but in the palms of people, this is our dream. Such technology exists but India is far behind in this and we have to make a beginning," he said.
Haryana Chief Minister Bhupinder Singh Hooda also was booed by sections of audience in an event attended by Modi a few days back in Kaithal, which prompted him to declare that he will never share a stage with Modi.

Maharashtra CM Prithiviraj Chavan, who too faced a hostile crowd during a PM function, on Thursday said he will not attend a function by Modi at Nagpur.
Later, the Jharkhand Mukti Morcha on Thursday demanded a public apology from Prime Minister Narendra Modi for hooting "by BJP workers" during chief minister and party leader Hemant Soren's speechand threatened that the party would protest every visit by any central minister to the state.
"The JMM demands from the prime minister to give up the desire to abrogate federal system for being individual-centric and render a public apology," a JMM release said.
"Otherwise, JMM activists will protest visits of central ministers to Jharkhand in a democratic manner," it said.
It accused BJP activists of working as an organized unsocial outfit destroying Jharkhand's culture and tradition when they hooted during Soren's speech when the prime minister, Governor Syed Ahmed and other dignitaries were on stage during the unveiling of developmental projects.
Holding Modi responsible for BJP's "indisciplined activists" in the presence of its senior leaders, the JMM said it reminded the destruction of the structure in Ayodhya on December 6, 1992.