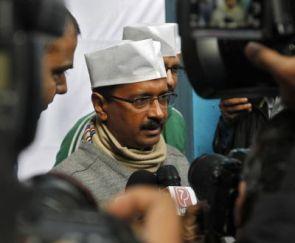 Unfazed by the solicitor general's opinion, Delhi Chief Minister Arvind Kejriwal on Friday said he would write to the Lt Governor Najeeb Jung on plans to enact the Jan Lokpal Bill without the Centre's concurrence.
A day after Solicitor General Mohan Parasaran conveyed his opinion Jung that without prior concurrence the bill would be illegal, the CM said the government would convey its views to the Lt Governor. "I will write to Lt Governor on the issue," Kejriwal said when asked about the issue.
Senior Minister Manish Sisodia said the government will have a "look" at the issue but maintained that the assembly and the elected government have the right to take decisions.
"The solicitor general might have given some arguments and cited some clauses. We will have a look at it, but I want to say that there is nothing supreme than the elected government and the elected Vidhan Sabha," Sisodia said.
Aam Aadmi Party leader and senior lawyer Prashant Bhushan said there may be some rules that the government needs to get prior clearance for the bill but the mere fact that the permission was not taken does not make it illegal as the bill has to get the approval of the President.
Parasaran, whose opinion was sought by Jung on the constitutionality of the Delhi government's proposal to enact the Jan Lokpal Bill without seeking Centre's clearance, had conveyed to him that it will be illegal if enacted without the consent.
"I am not bothered about politics. We have only given our opinion based on the constitutional position. Therefore, it is for the government to consider it and possibly act," the solicitor general said.
The Delhi cabinet had cleared the draft Jan Lokpal Bill on February 3. It provides for covering all public servants -- from the chief minister to Group D employees -- and seeks life term as maximum punishment for those found guilty of corruption.
The AAP government has already declared that it will go ahead with enacting the law. It plans to introduce the bill in the Delhi assembly on February 13 and discuss it for two days before shifting the proceedings to a sports stadium for passage of the bill.

Image: Delhi Chief Minister Arvind Kejriwal